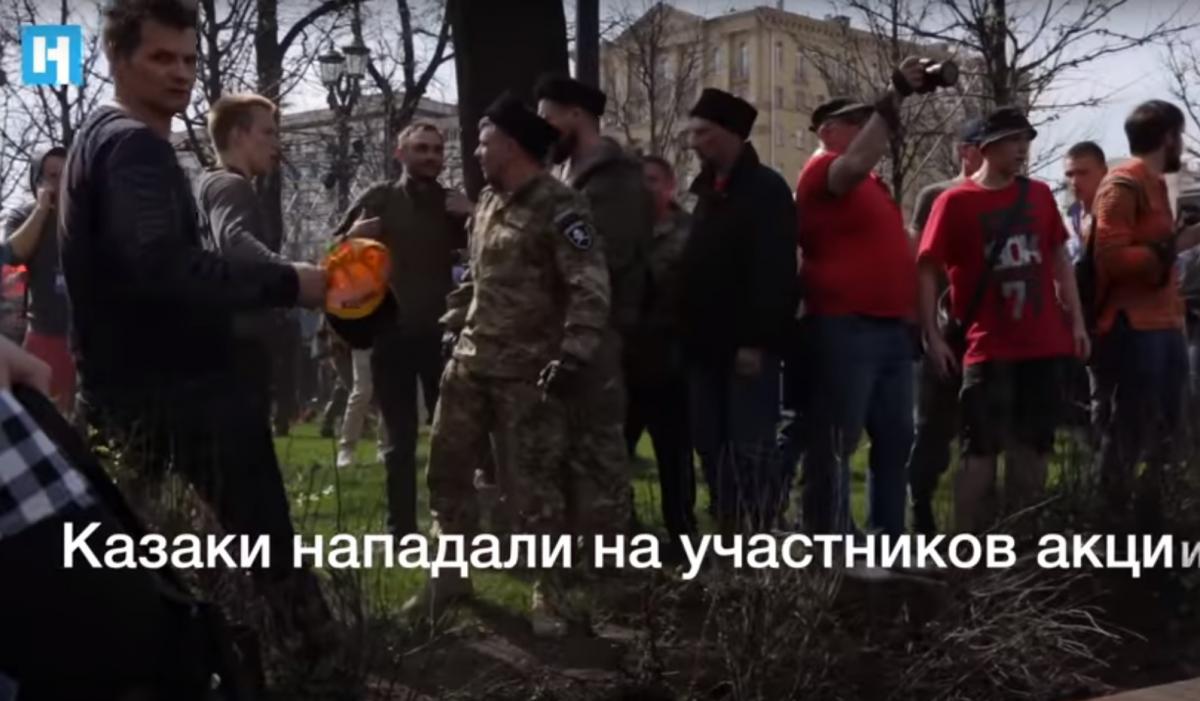 Screenshot / Youtube, novayagazeta
The infamous "Cossacks" who were seen whipping and beating up peaceful protesters at a #notourtsar rally in Moscow had previously taken part in Donbas hostilities as part of Moscow's proxy forces in Russia's hybrid war against Ukraine.
According to Novaya Gazeta, the so-called Crimean Cossack Regiment of Ataman Yakov Baklanov is a unit that has been regularly employed by the Kremlin in a range of its proxy efforts from Crimea to Donbas.
These uniformed men have a wealth of experience in conflict situations: from raiding contemporary art exhibits to taking part in hostilities in eastern Ukraine, the publication stresses.
The report says the commander of the "Crimean Cossack regiment," Nikolai Dyakonov, is a board member of the "Union of Donbass Volunteers" [one of the most prominent organizations recruiting Russians across the country to fight against Ukraine in eastern Ukraine].  At the same time, the "Crimean Cossack Regiment" is part of the Union of Cossack Warriors of Russia and Foreign Lands. Dyakonov could not be reached for comment, according to the newspaper.
It is noted that Dyakonov with a hundred of his subordinates arrived in Crimea on March 1, 2014, right after the notorious "little green men" [read "Russian regular troops] were deployed. Dyakonov has managed to unite a number of local "Cossacks," who started off from holding "preventive conversations" with pro-Ukrainian activists of the Mejlis of the Crimean Tatar people. They also set up roadblocks around Sevastopol and started patrolling the coastline.
Read alsoPolice detain over thousand protesters at anti-Putin rallies across RussiaThe Crimean Cossack Regiment, as an organization, was founded only on March 15, 2014, just a day before the illegal referendum was held on Crimea's accession to Russia. The unit consisted of about 400 people - both Dyakonov's initial team and representatives of the Crimean and Sevastopol Cossack communities.
After the annexation of Crimea, Dyakonov's "Cossacks" set off to fight in Donbas. Dyakonov was rather restrained in his earlier comments on battles in eastern Ukraine, telling about successful combat missions in Snizhne and Saur-Mohyla (Ukraine's Armed Forces suffered heavy casualties in those battles, having reported over 1,000 WIAs).
After the Donbas mission, the "Crimean Cossack Regiment" apparently returned to Moscow.
As UNIAN reported, during the #notourtsar rallies held this Sunday ahead of Vladimir Putin's inauguration, more than a thousand people were detained across Russia.
Cossacks were reported to have been beating up and whipping peaceful protesters in Moscow while municipal police stood by without interfering.