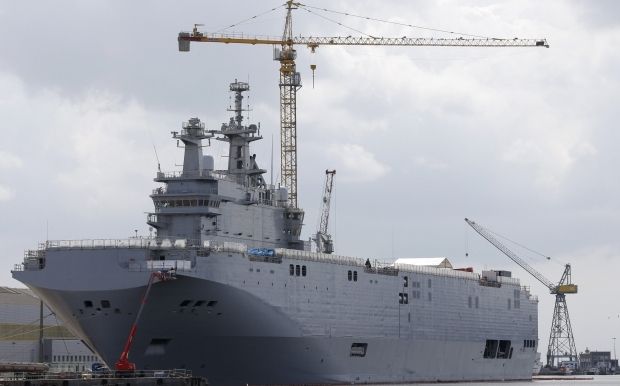 REUTERS
Lévy told this to Ukrainian businessman Victor Pinchuk following his conversation with Hollande during an award ceremony, Ukrainian online newspaper Ukrainska Pravda reported.
"I asked Hollande about the Mistrals. The president permitted me to tell you that Russian sailors have been denied permission to board. In this question France will follow its current position as long as there is such a situation of conflict in Ukraine," Lévy said.
"All the rest is propaganda," he added.
As the French publication of Ouest France reported earlier, since November 17 the Russian sailors who had gone to the French port of Saint-Nazaire to man the the Vladivostok Mistral-class helicopter carrier have had no access to the vessel.
The Vladivostok is the first of two Mistral-class helicopter carrier assault ships built in France under a contract with Russia. It was to have been delivered on November 14.
However, French Prime Minister Manuel Valls said he did not see that conditions were right for transferring the ship to Russia.
At the same time, Chief of Staff of Russia's Presidential Administration Sergei Ivanov has said that Russia will sue France if the helicopter carrier assault ships are not delivered, and will demand compensation under the conditions of the contract.
As reported earlier, the Russian sailors are expected to stay in France until the end of the year.