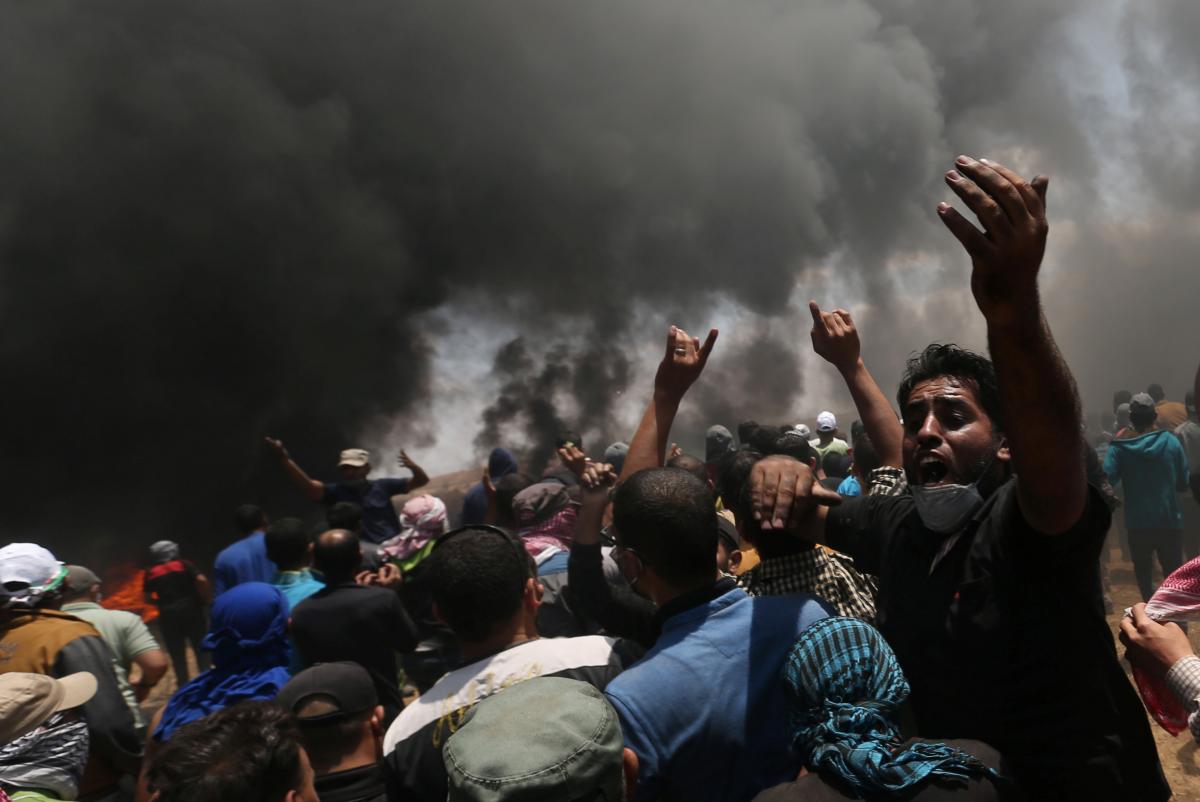 REUTERS
Fresh clashes between Israeli troops and Palestinians broke out on Monday on the border between the Gaza Strip and Israel, as protesters reached the climax of a six-week protest against the U.S. moving its embassy in Israel to Jerusalem.
Gaza's health ministry said 18 Palestinians were shot and killed by the Israeli army – including a 14-year-old, Deutsche Welle (DW) wrote.
Conflicting sources have put the number of injured at between 227 and 500. The ministry said 200 were wounded by live fire.
The Israeli army said in a statement its forces are "responding with riot dispersal means and fire, and are operating according to standard operating procedures" in response to "10,000 violent rioters."
Read alsoTrump recognizes Jerusalem as Israel's capital and orders U.S. Embassy to move
Some 35,000 Palestinians have gathered at 10 different points along the border to protest the moving of the U.S. Embassy in Israel from Tel Aviv to the disputed city of Jerusalem. 
A lavish ceremony is due to take place later on Monday to mark the occasion.
The U.S. decision has infuriated the Palestinians, who seek east Jerusalem as a future capital. 
Monday's inauguration also takes place on the 70th anniversary of Israel's founding.
Although U.S. President Donald Trump isn't due to attend the ceremony, he has sent his son-in-law Jared Kushner and daughter Ivanka. The U.S. leader will address the event by video.
DW Correspondent Dana Regev, who will be reporting from the ceremony, said in a tweet that security has been stepped up in Jerusalem.
Israel has meanwhile doubled the number of troops along the Gaza border in preparation for a bloody showdown with protesters. The Israeli military has expressed concern that Hamas militants will attempt to lead the storming of the frontier fence on Monday in opposition to the embassy move.
Reports from within Gaza suggest that mosques have used their loudspeakers to urge Palestinians to join the so-called "Great March of Return."
Since the demonstrations began on March 30, Israeli troops have killed 63 Palestinians and wounded more than 1,800 others, according to Palestinian health officials.
Israel's response to the protest campaign has drawn international criticism. The Israeli government has defended the use of live ammunition, saying it was to prevent the border fence from being damaged or breached.