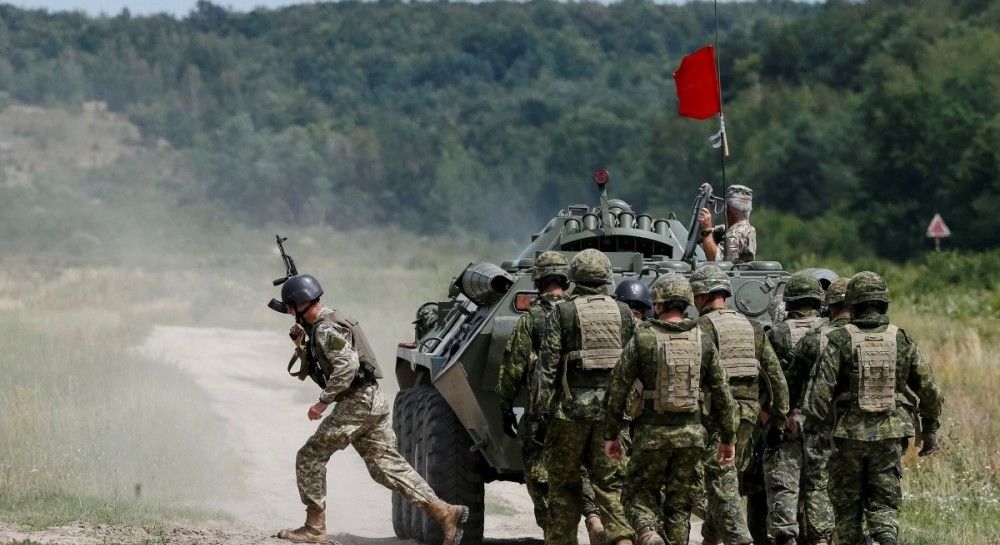 Canada's military trainers in Ukraine teach soldiers skills such as bomb disposal, medical training and how to work as a unit / REUTERS
Federal officials have flatly denied online rumours circulated by Russian social media accounts that three Canadian soldiers working in Ukraine were killed by a landmine.
The Department of National Defence and the Canadian Armed Forces told Canada's CTV News that the claims are totally false, and that there are no Canadians who have been injured or killed.
The false claim appears to have been first reported on a Russian-language website that cites the pro-Russian group the "Donetsk People's Republic" ("DPR"). The separatist group, which receives financial backing from Russia, was declared a terrorist group by Ukraine in 2015.
Read alsoRadio Poland: Border guards detain Russian over 'information war' on Poland
The report falsely claims that three NATO servicemen from Canada were killed by a landmine near the town of Avdiyivka in Donbas, eastern Ukraine. The report also claims that two American soldiers were injured in the blast.
The report alleges that Ukrainian officials plan to blame the pro-Russian group for the "attack," which it calls an "accident." Instead, the report says the landmine accident – which never happened – is the sole fault of the Ukrainian government.
The article cites the claim to the "DPR's" "defense ministry." The "DPR" is not a country and does not have a defense ministry.
Despite the untrue nature of the report, it quickly spread on Russian-language social media accounts. Eventually, the claims were translated into English and hit the radar of Western media.
The rumour appears to be fanned by Twitter accounts based in Russia, some of which may be trying to undermine faith in NATO. Several of the accounts consistently tweet anti-American sentiments.
Since 2015, Canada, Britain the U.S. have sent military trainers to Ukraine to teach soldiers skills such as bomb disposal, medical training and how to work as a unit. The move came after Russia annexed Crimea and began funnelling resources to pro-Russian separatists forces in Donbas, an eastern region in Ukraine.