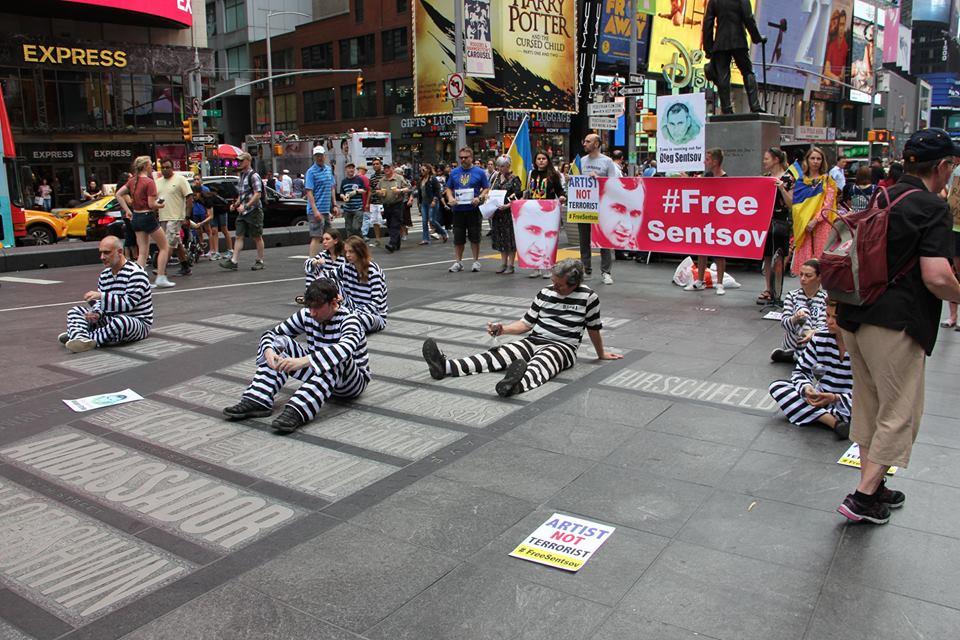 facebook.com/andrei.zagdansky
In New York, a performance-protest was held in support of Ukrainian film director Oleh Sentsov, who is continuing a hunger strike in a Russian penal colony.
Nearly fifty people set up a flash mob in Times Square demanding that Sentsov be released from prison.
Several participants in the action dressed in prison robes sat in the middle of the street holding an hourglass in their hands.
Read alsoEU calls for immediate release of Ukrainians detained in Russia, occupied Crimea"Time is running out for Oleh Sentsov because of an indefinite hunger strike. Time is running out for all political prisoners. Time is running out for those whose rights and human dignity are humiliated," the activists said in a statement, noting that the international community cannot go on turning a blind eye to Russia's aggression against Ukraine and the entire free world.
As UNIAN reported earlier, Russia's security forces detained Sentsov together in occupied Crimea in May 2014 on charges of organizing terrorist attacks on the peninsula.
In August 2015, the North Caucasus District Military Court in Russia's Rostov-on-Don sentenced Sentsov to 20 years in a high-security penal colony. Sentsov pleaded not guilty.
Read alsoGlobal Sentsov campaign planned ahead of Russia World Cup – mediaThe Ukrainian film director declared an indefinite hunger strike on May 14, standing out against the Kremlin's actions, demanding the release of all the Ukrainian political prisoners held in Russia.