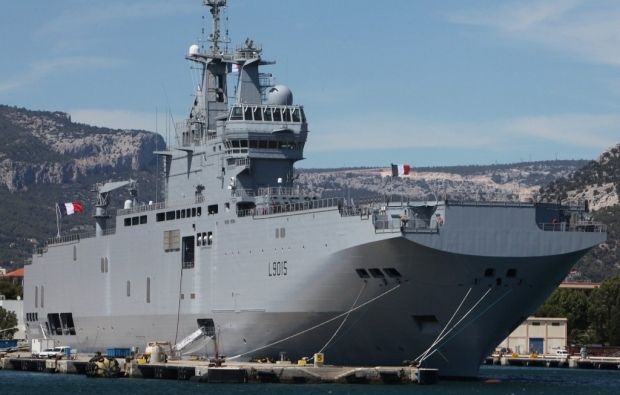 Photo from info-prom.com.ua
"As for the sale of the Mistral to Russia: the conditions of delivery have not been met," Fabius tweeted in French on Tuesday morning.
The first Mistral-class amphibious assault ship, named the Vladivostok, was to have been transferred to the Russian Navy on November 14, according to an invitation sent to the Russian side by the company building the vessel. However, the transfer has not yet taken place, and it is not clear when, or indeed if, it will actually happen.
Russia has said that if France fails to deliver the first Mistral by the end of November, Russia intends to sue for compensation, the amount of which will be made public, adding that failure to comply with the delivery term entails significant fines calculated on a daily basis.
As UNIAN reported earlier, on September 3 the French government announced that it had decided to cancel the delivery of the Mistrals to Russia due to Moscow's "non-fulfilment of necessary conditions" with regard to events in Ukraine.
At the NATO Summit in Newport on September 4, French President Francois Hollande said that the delivery of the Mistrals to Russia would depend on the development of the situation in Ukraine.
"The contract for the sale of the Mistrals to Russia has not been terminated, or suspended. The delivery of the ships will depend on the further development of the situation in the east of Ukraine."
According to Reuters, Hollande announced two conditions under which France would be ready to hand over the Mistrals to Russia: a cessation of hostilities and a political solution to the conflict in Ukraine.
"Today, these conditions have not been fulfilled," the president said at the summit.
Hollande said France would not suspend the execution of the contract, but would not deliver the ships unless the situation in Ukraine improved.
The EUR 1.2 billion contract for the two Mistral helicopter carriers was signed between the French company DCNS and Rosoboronexport in 2011. The first ship was expected to go into service in the Russian Navy in 2014, while the second, named the Sevastopol, was to be commissioned in 2015.