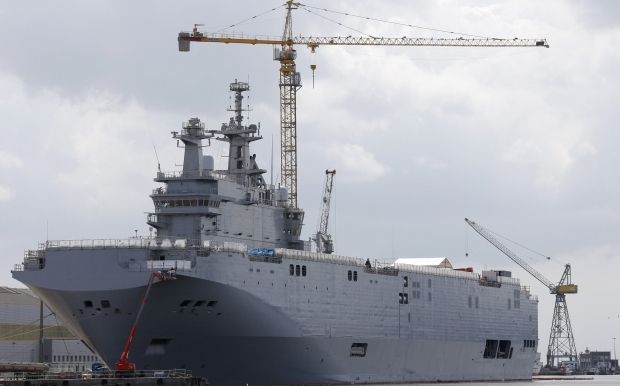 REUTERS
Hard drivers, data transmitting equipment, and other high-tech equipment installed by French company Thales were stolen from the helicopter carrier, which was docked at Saint-Nazaire, the magazine said.
The theft was reported on November 25, Le Point said.
Police in Rennes, who are investigating the crime, said there were no signs of forced entry to the vessel.
The French police have not commented on the case. Meanwhile, a source at the French Defense Ministry said that members of the Russian crew of the ship are not yet suspected to have been involved in the thefts.
As reported earlier, French President François Hollande said France had decided to suspend the delivery of the Vladivostok to Russia.
France has come under pressure from Ukraine and its NATO allies not to deliver to Russia the Vladivostok and another warship of the same type, the Sevastopol, due to Russia's aggression against Ukraine and its failure to honor the Minsk agreement on ending the conflict in the Donbas, which Moscow signed on September 5.