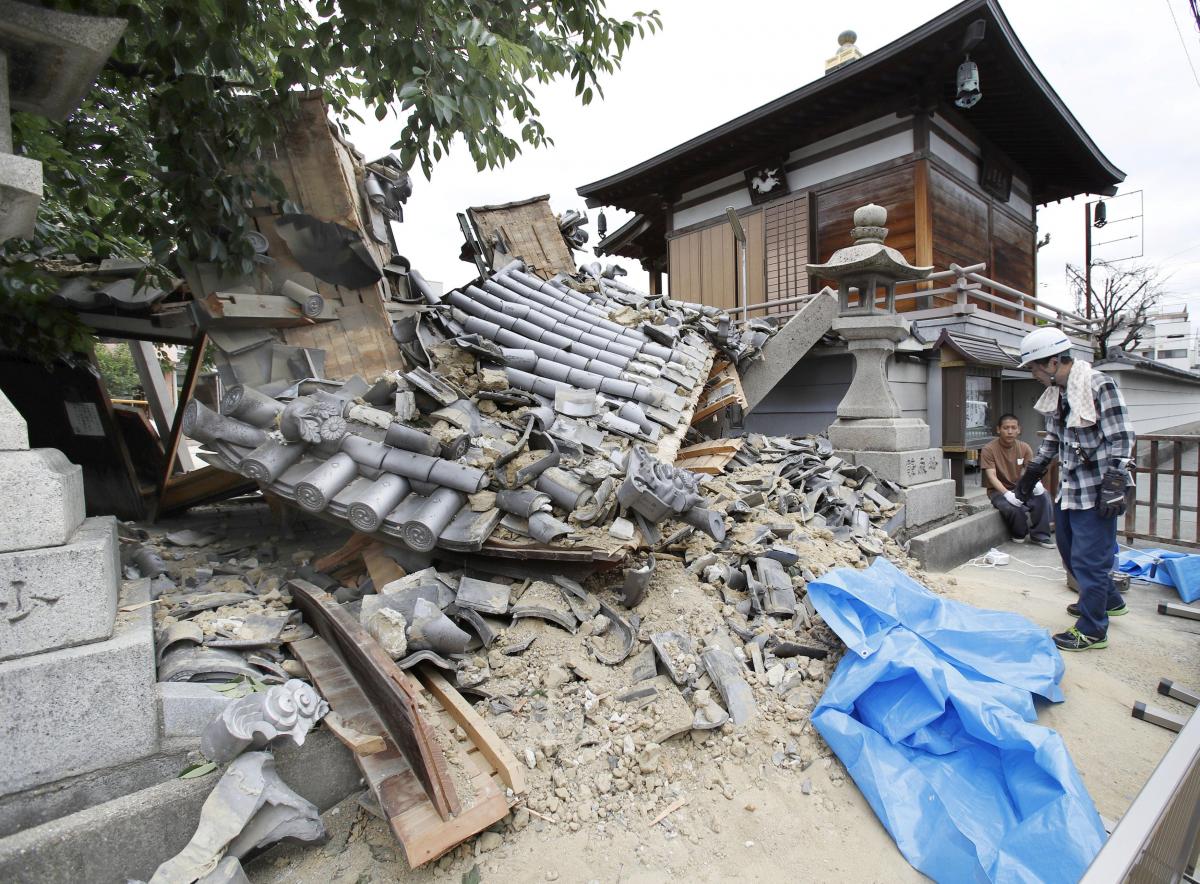 Kyodo/via REUTERS
A strong earthquake with a magnitude of 6.1 hit Osaka and other parts of western Japan on Monday morning, leaving at least three people dead and more than 200 injured, disrupting rush-hour traffic and cutting off power, water and gas in the area.
The 7:58 a.m. quake occurred at a depth of about 13 kilometers in the northern part of Osaka Prefecture, where it registered lower 6 on the Japanese seismic intensity scale of 7, the Japan Meteorological Agency said, according to Kyodo News.
The inland quake did not trigger a tsunami and no nuclear power plants in the vicinity reported abnormalities, but dozens of fires were reported in Osaka, Hyogo, Kyoto and Mie prefectures, according to local authorities.
In a quake with an intensity of lower 6, it is difficult to remain standing and unsecured furniture may move or topple over, according to the agency.
Read alsoBig Mexico quake cuts power and damages homes, two dead in crash – media
Although its magnitude was relatively small, the quake is believed to have led to high-intensity tremors because of the shallow epicenter.
It is the largest seismic intensity the western Japan prefecture has registered since the agency started full-fledged observations in 1923. The agency revised the quake's magnitude and depth from the initially announced M5.9 and 10 km.
Rina Miyake, a 9-year-old girl, died on her way to school after a wall several dozens of meters long around a swimming pool collapsed in Takatsuki, while Minoru Yasui, an 80-year-old resident of Osaka's Higashiyodogawa Ward, was killed after a wall collapsed over him.
Motochika Goto, 85, was crushed by a bookcase and died in Ibaraki in the Osaka suburbs, according to local police.
"The government has united to respond (to the disaster) under the policy to put top priority on people's lives," Prime Minister Shinzo Abe said as the government set up an emergency response team.
The weather agency warned that a strong quake with a similar size could jolt the Osaka region within a week, but dismissed concerns that Monday's temblor could trigger a megaquake that is projected to occur in the future off western Japan with massive tsunami.
Many commuters in the morning rush hour were left stranded at stations and on streets as the quake disrupted operations of shinkansen bullet train and other railways in western and central Japan.
Kansai and Kobe airports in the region temporarily closed but resumed operation after confirming no abnormalities to the facilities.
Osaka Gas Co. said it suspended gas supply to 108,000 households in Osaka Prefecture following the quake, while more than 170,000 homes in Osaka and neighboring Hyogo Prefecture are suffering a blackout, Kansai Electric Power Co. said.
No abnormalities were reported at the Takahama, Mihama and Oi nuclear plants in central Japan, according to Kansai Electric.
An elevator operator said there were at least 70 cases of people being temporarily trapped inside elevators in Osaka Prefecture and nearby areas, while the police said a water pipe on a road in Takatsuki burst and flooded the area.
Public services were also suspended due to the quake. Court sessions scheduled for the day were all canceled in Osaka district, high and summary courts, while hundreds of public schools in the affected areas were also closed.
In a 1995 deadly quake in the region, which had a magnitude of 7.3 and recorded 7 on the Japanese seismic intensity scale, 6,434 people were killed.
Monday's temblor was the latest in a string of quakes over the last few days. A magnitude 4.6 quake hit southern Gunma, north of Tokyo, on Sunday, and a magnitude 4.5 temblor struck Chiba, near Tokyo, on Saturday.