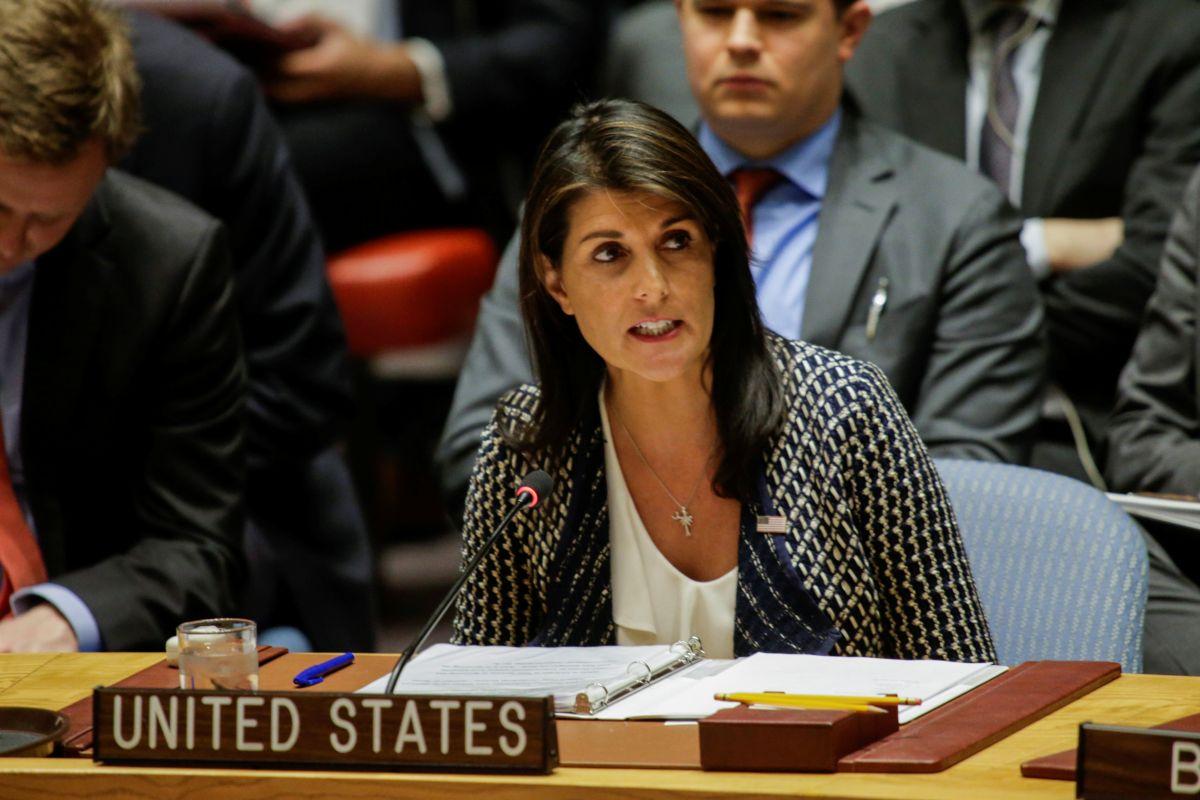 REUTERS
The United States is set to withdraw from the United Nations Human Rights Council, with the U.S. ambassador to the UN calling the organization a "protector of human rights abusers and a cesspool of political bias".
Ambassador Nikki Haley said the withdrawal was not a retreat from the U.S.'s commitment to human rights, but called the 47-member, international council "an organization that is not worthy of its name," according to The Independent.
The U.S. has long called for the body to reform, saying it allows members that have been accused human rights violations. Ms Haley pointed to the involvement of countries like China, Cuba and Venezuela in her speech on Tuesday.
"Look at the council membership, and you see an appalling disrespect for the most basic rights," Haley said.
Ms Haley also accused the council of maintaining a "disproportionate focus and unending hostility towards Israel" that shows it is "motivated by political bias, not by human rights".
Read alsoPolitical differences between Trump, EU leaders threatening NATO – Stoltenberg
Zeid Ra'ad al-Hussein, the UN human rights chief, called the announcement "disappointing, if not really surprising".
"Given the state of human rights in today's world, the U.S. should be stepping up, not stepping back," he said in a statement.
Washington's withdrawal is the latest U.S. rejection of multilateral engagement after it pulled out of the Paris climate agreement and the 2015 Iran nuclear deal, which was signed with a number of other world powers.
It also comes as the U.S. faces intense criticism for detaining children separated from their immigrant parents at the U.S.-Mexico border. Mr al-Hussein has called on Washington to halt the "unconscionable" policy.
Diplomats have said the US's withdrawal from the council could bolster countries such as Cuba, Russia, Egypt and Pakistan, which resist what they see as UN interference in sovereign issues.
Ms Haley, announcing the withdrawal at the State Department alongside Secretary of State Mike Pompeo, said that if the council does reform, the United States "would be happy to rejoin."
Read alsoPutin's "euphoria" threatening Ukraine – expert
The U.S. has also sought to withdraw from the UN Scientific, Educational, and Cultural Organisation (UNESCO), citing anti-Israel bias.
The human rights body was formed in 2006, but was shunned by the administration of President George W Bush. In 2009, President Barack Obama reversed that decision after taking office.
A sitting member of the Council has never dropped out in its 12-year history, though Libya was kicked out after a vote from the General Assembly in 2011.