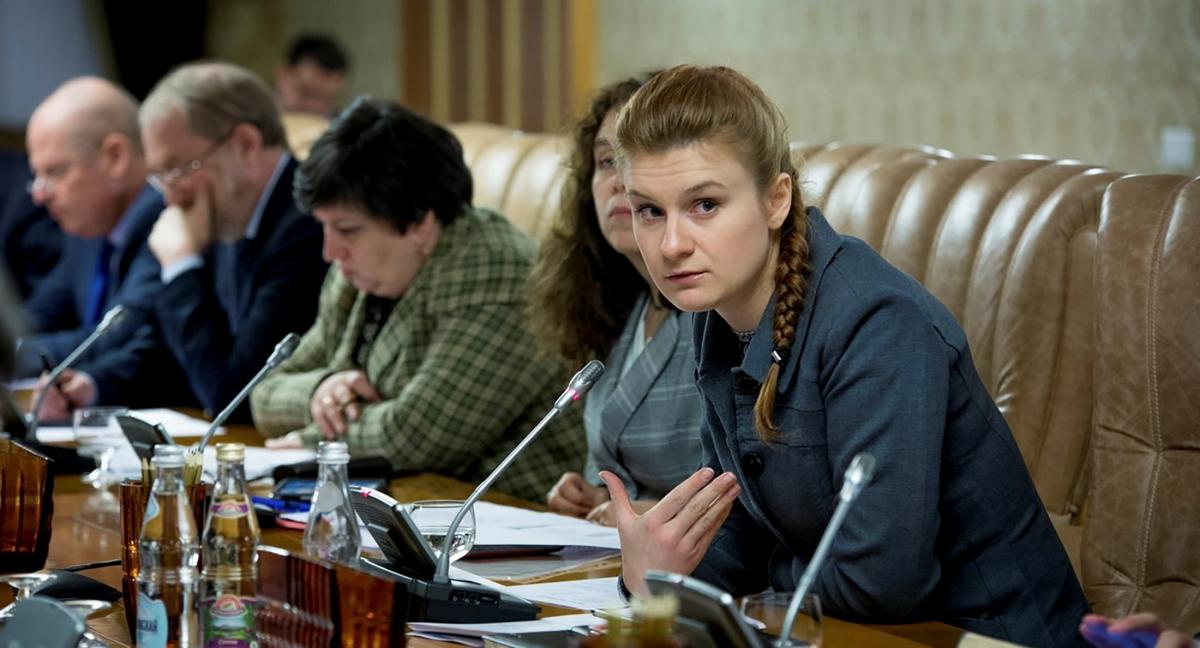 REUTERS
Maria Butina, who received a master's degree in international relations this past spring from American University in Washington, D.C., courted the National Rifle Association's top guns and sought access to Republican presidential candidates Scott Walker and Donald Trump. She pleaded innocent last week to charges of conspiring to act as a foreign agent.
If the charges against Butina are accurate, she's only the latest in a long line of Russian agents to infiltrate U.S. universities, according to TPM.
Under the alias Cynthia Murphy, Russian spy Lydia Guryeva attended Columbia Business School, and ingratiated herself with a key fundraiser for Hillary Clinton's 2008 presidential campaign.
Guryeva's instructions from Moscow, according to a 2010 FBI complaint, were to "strengthen…ties w. classmates on daily basis incl. professors who can help in job search and who will have (or already have) access to secret info" and to report "on their detailed personal data and character traits w. preliminary conclusions about their potential (vulnerability) to be recruited by Service."
Now another graduate student at an urban East Coast university, who similarly cultivated powerbrokers and political operatives, is accused of being a Russian spy and taking orders from high-ranking officials in her homeland.
Russian intelligence understands that today's professor of international relations may be tomorrow's assistant secretary of state, and vice versa. Although cyber-spying and hacking offer opportunities to glean secrets at less personal risk, the traditional strategies of human espionage persist, and sending a spy to school is prominent among them.
Read alsoRussian woman with close NRA ties arrested in U.S. on spy charges
Sometimes, Russian agents join the academic community as students or instructors. Of Guryeva and the other nine "illegals" — sleeper agents without diplomatic cover — who pleaded guilty in 2010 to conspiring to act as foreign agents and were swapped back to Russia, seven went to U.S. universities. One taught politics for a semester at Baruch College, lambasting American foreign policy.
In other cases, agents hold diplomatic posts at an embassy or consulate and forage in nearby campuses for recruits and information. It is easier, cheaper and less conspicuous for Russian intelligence to enlist a student or professor who can be steered to a federal agency than to lure someone already in a sensitive government position. Exploiting open campuses, spies slip unnoticed into lectures, seminars and cafeterias, where they befriend the computer scientist or Pentagon adviser sitting beside them.
Butina enrolled in American University's School of International Service in the summer of 2016, university spokesman Mark Story said. She concentrated in cyber policy and became a research assistant at the university's Kogod School of Business.
Beyond the university, Butina wooed gun-rights activists and influential conservatives. Shortly after Clinton called Trump to concede defeat on the morning of Nov. 9, 2016, Butina sent a direct Twitter message to a Russian official: "I am ready for further orders."
Read alsoReuters Exclusive: Accused Russian agent Butina met with U.S. Treasury, Fed officials
In 2013, the FBI recorded two Russian spies under diplomatic cover, Igor Sporyshev and Victor Pobodnyy, discussing efforts to recruit several young women with ties to New York University. That same year, in a classic example of how spies mine conferences for prospects, Pobodnyy—using his cover as a diplomatic attache—met Carter Page at an energy symposium in New York. Pobodnyy then received documents about the energy business from Page, later a Trump campaign foreign policy adviser whose communications were monitored by the FBI as part of an investigation into links between the campaign and Russia. In July 2016, Page gave a speech at the New Economic School, a Moscow university, exchanging "nice pleasantries" afterwards with Russia's deputy prime minister.
Page has denied any wrongdoing, saying, "I had a very brief hello to a couple of people. That was it."
The nexus between espionage and academia has surfaced elsewhere in the Trump-Russia imbroglio. One incident involved a professor in the United Kingdom — hardly a surprise, since Russian intelligence has long been notorious for recruiting communist sympathizers from British universities, including Kim Philby and the other "Cambridge Five."
Read alsoCNN: Judge grants immunity for five witnesses in Manafort case
Joseph Mifsud has been a professor at the University of East Anglia and the University of Stirling in Scotland (which touted his meeting with Russian president and ex-intelligence officer Vladimir Putin), as well as honorary director of the London Academy of Diplomacy. In 2016, he told George Papadopoulos, a foreign policy adviser to the Trump campaign, that the Russians had "dirt" on then-candidate Hillary Clinton in the form of "thousands of emails," according to court documents and media reports. Papadopoulos, who pleaded guilty in October 2017 to lying to federal agents, understood that Mifsud had "substantial connections to Russian government officials," and had met with them immediately before telling him about the Clinton emails, legal filings show.
Mifsud has denied being a Russian agent. "I am an academic, I do not even speak Russian," he told The Washington Post.
U.S. universities, ever-sensitive to their finances and global relationships, have largely ignored the threat of foreign espionage: They're ramping up enrollment of full-paying international students as well as opening campuses abroad, which are often subsidized by the host countries. Columbia didn't revoke Murphy's diploma after she turned out to be a spy named Guryeva — though Harvard's John F. Kennedy School of Government did rescind the degree of another "illegal," Andrey Bezrukov, who had posed as a Canadian named Donald Heathfield. Story declined to say whether, if Butina is convicted, the university will take away her degree.