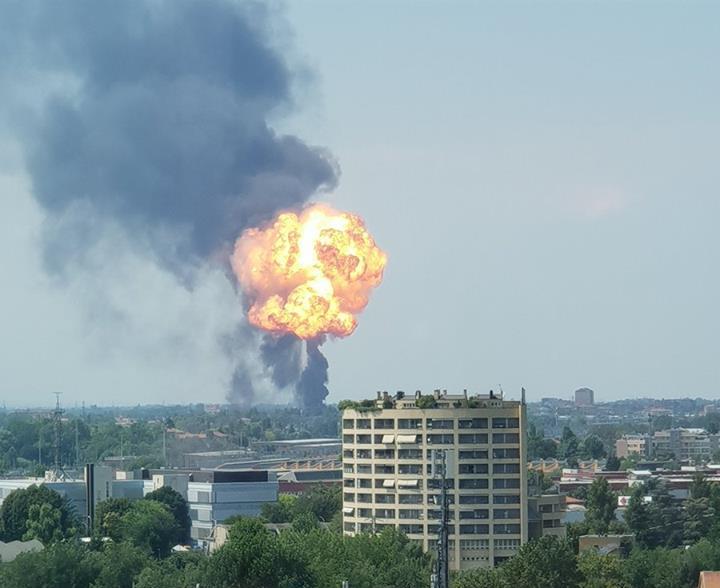 Photo from facebook Yakovina Ivan
At least two people have been killed and 70 people injured after two trucks collided on a motorway and exploded in a huge fireball in Bologna.
Part of the bridge then collapsed and the resulting explosion and fire spread to a carpark below the bridge, where several other vehicles caught fire and exploded, U.K.-based Mirror reported.
A lorry carrying cars collided on a bridge with another tanker lorry containing highly flammable propane or butane.
Read alsoTwo civilians injured in blast of unknown explosive device in Maryinka, eastern Ukraine
Among the injured are eleven military police officers and two road officers who had been directing traffic after a previous road accident.
Eyewitnesses were left stunned as a huge ball of fire erupted hundreds of feet into the air and a large blaze burned in the motorway, bringing traffic to a halt.
People living far from the site of the explosion said the deafening blast shook their homes.
A video shot from a parked car at the moment of the explosion appeared to show someone being engulfed by flames when the tanker exploded.
Police said they had closed off the road where the crash took place as well as the surrounding area in Borgo Panigale, on the outskirts of Bologna.
Chiuso raccordo autostradale tra Bologna Casalecchio e il bivio con la A14
Bologna-Taranto, in entrambe le direzioni, a causa di un incidente al km 3 che ha visto coinvolta un' autocisterna.
Chiuso anche il relativo tratto tangeziale
In corso rilievi #poliziastradale@StradeAnaspic.twitter.com/tUZBBBTM0H

— Polizia di Stato (@poliziadistato) August 6, 2018