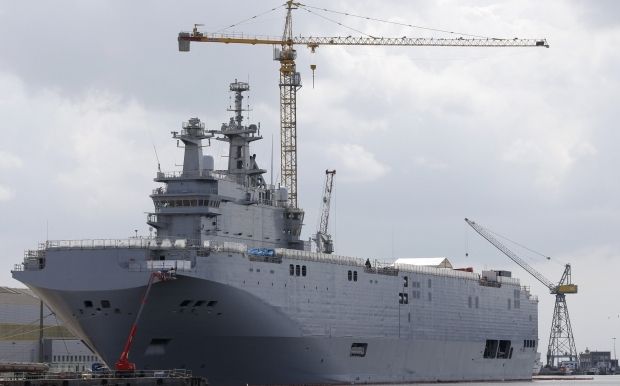 REUTERS
"The ship is being guarded by a few dozen of Russian Marines who have arrived in Saint-Nazaire from Vladivostok," the report reads.
"The ship is to go into service of the Pacific Fleet, and therefore some of the receiving crew are officers of the Pacific Fleet," says the report.
"In addition, marines have been sent there, whose main task is to ensure the safety of the ship, as well as to test its landing systems. Their exact number is not subject to disclosure."
The Vladivostok was to have been delivered to Russia in November, but France has said it has suspended the delivery of the ship, and another of the same type, due to Russia's annexation of Ukraine's Crimean peninsula.
According to the newspaper, the marines arrived in France in September and since that time have been waiting for a decision on the delivery of the helicopter carrier assault ship to Russia.
"The marines came to the Mistral to protect the ship from attack during its delivery. After piracy [became a problem], I made a decision to provide a crew with a small group of marines for any long voyage. Usually it is 20-30 people, which is enough to prevent the seizure of a ship. We have the same situation here," the former Russian Navy Commander Vladimir Masorin told the newspaper.
"When a ship is at sea, it is the territory of the Russian Federation. When the Mistral is delivered to Russia, it will also be the territory of our country. Therefore, as long as it is not equipped with weapons, the marines will ensure its safety," Masorin said.
"The marines may carry weapons only with the agreement of France," he added.