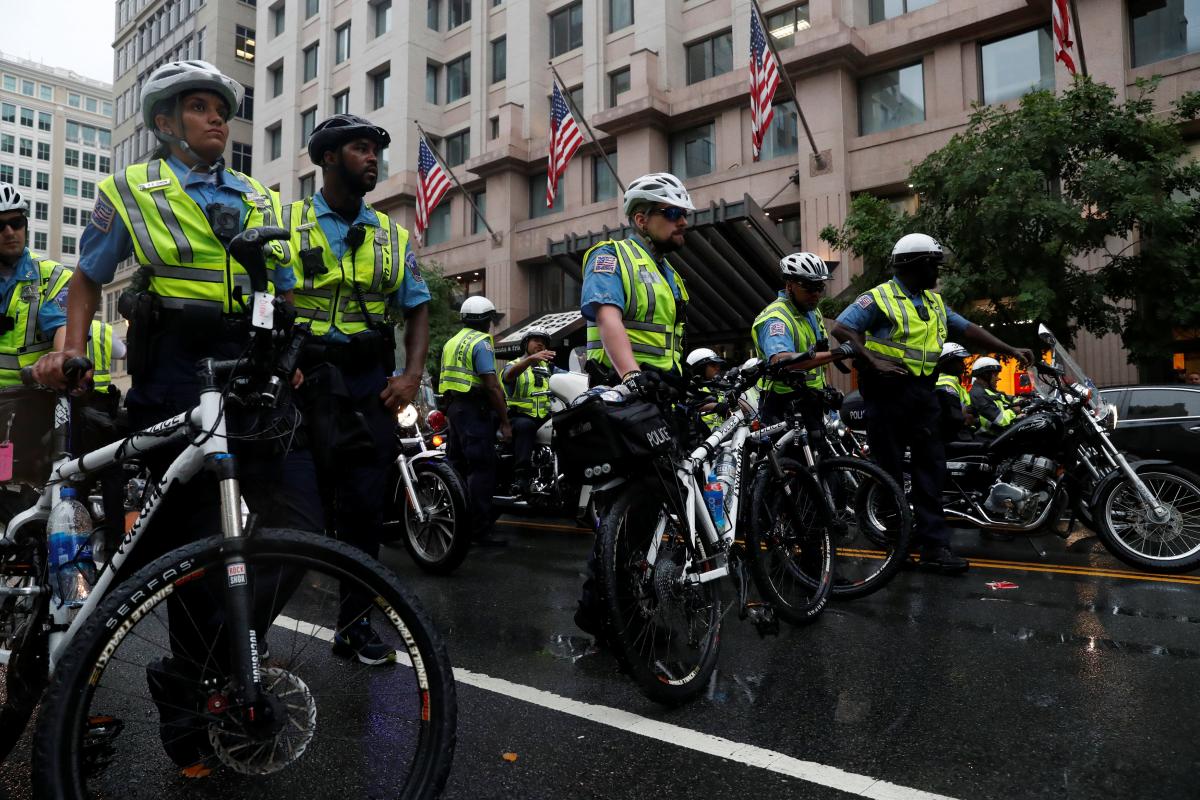 REUTERS
Approximately two dozen white nationalists rallied in the U.S. capital on Sunday, one year after clashes in Charlottesville, Virginia, left one person dead and elevated racial tensions in America.
But they were vastly outnumbered by throngs of counterprotesters, CNN reports.
The showing from "Unite the Right 2" participants fell far short of the hundreds that organizer Jason Kessler was expecting, based on his event permit application.
Kessler, who organized last year's "Unite the Right" rally in Charlottesville, blamed the low turnout on logistical issues and confusion regarding the group's transportation -- a claim echoed by at least two men who spoke to reporters. "People are scared to come out after what happened last year," one of the men added.
The white nationalists left the park not long after they arrived, prompted by the sound of thunder and rain, and were whisked away in white vans.
Everywhere they went Sunday afternoon, "Unite the Right 2" rallygoers were confronted by counterprotesters, who had been gathering throughout the day as part of a series of demonstrations led by members of 40 anti-racism groups.
Read alsoGOP lawmaker: Russian meddling fanned the flames in Charlottesville – media
Police kept the opposing sides separated.
In the past, similar far-right demonstrations have been dwarfed by counterprotests.
Sunday's demonstrations and the opposing rallies took place against a backdrop of heightened racial tensions in the U.S.
Recent months have seen a series of high-profile incidents in which police were called on people of color for innocuous acts, like napping in a dormitory common room, having a barbecue and going to the pool.
The demonstrations also come at a time when the wounds from last year's events in Charlottesville remain raw, particularly in regard to the death of counterprotester Heather Heyer, who was killed when a suspected neo-Nazi sympathizer drove a car into a crowd.
Charlottesville authorities came under harsh criticism for their delayed response to the clashes between white supremacists and counterprotesters. An independent review faulted police and said they failed to adequately prepare for the "Unite the Right" rally.
Read alsoReuters: Russia denounces new U.S. sanctions as illegal, mulls retaliation
Kessler organized that event to oppose the renaming of two parks honoring Confederate generals. That drew white nationalists, neo-Nazis and members of the Ku Klux Klan.
U.S. President Donald Trump -- who has been accused of deepening the racial divide in America -- condemned last year's events in Charlottesville in a tweet Saturday morning, saying they "resulted in senseless death and division."
"We must come together as a nation," he wrote. "I condemn all types of racism and acts of violence. Peace to ALL Americans!"
It was a departure from his comments a year ago, when he said there were "very fine people" on both sides of the conflict in Charlottesville. That statement set off a political firestorm that lasted for days and culminated in an infamous press conference in the lobby of Trump Tower in New York.