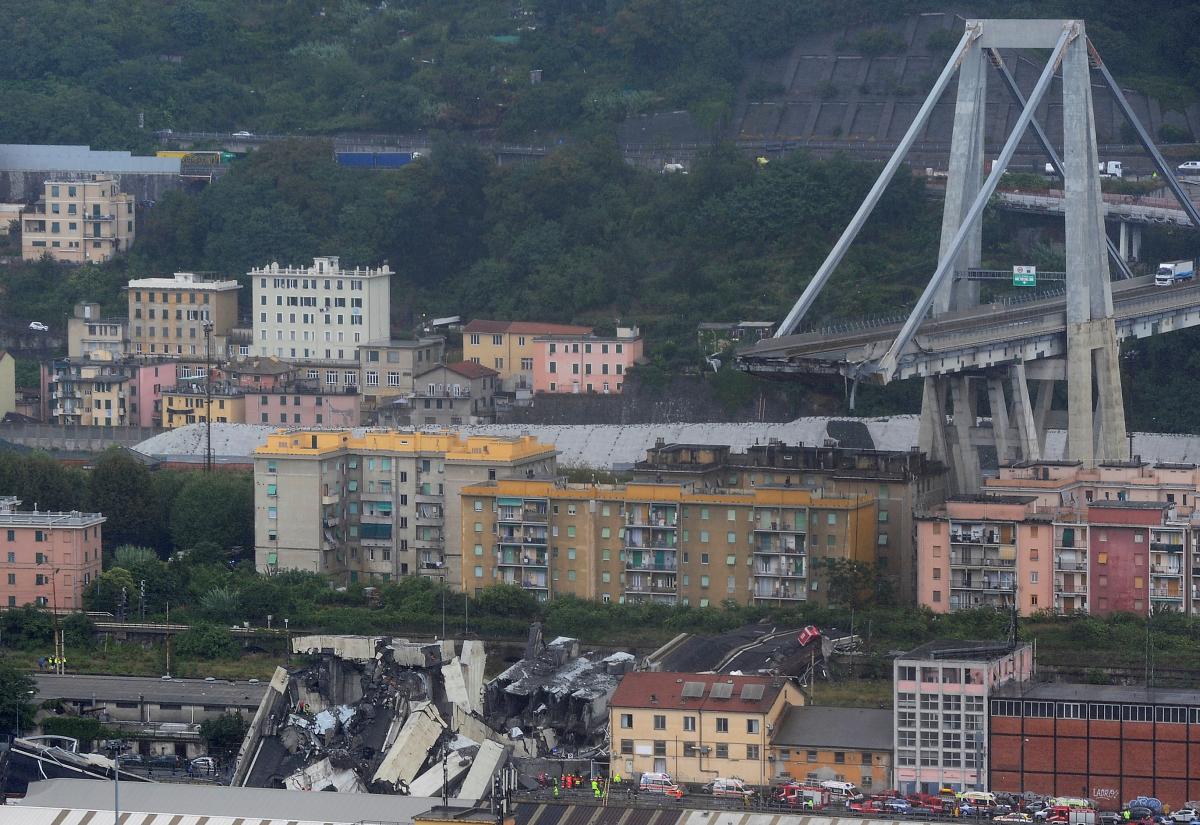 REUTERS
The search operation for those missing after a motorway bridge collapsed in the Italian port city of Genoa ended overnight after the last three bodies were found, bringing the official death toll to 43.
A 200-metre section of the Morandi bridge gave way in busy traffic on Tuesday, plunging vehicles and chunks of concrete and twisted metal to the ground 50 metres (165 feet) below, as reported by Reuters.
After three bodies were recovered from a car crushed under slabs of concrete, the Genoa prefecture raised its official death toll. Nine people are still in hospital, four in a critical condition, it said.
Read alsoItaly bridge collapse kills 37, ignites national anger – media
While all those listed as missing had now been accounted for, fire brigade official Stefano Zanut told Sky TG24: "Our work continues in order to have the full certainty that nobody has been left under the rubble."
He said workers were also making the site secure and helping investigations to establish the cause of the disaster.
The viaduct was part of the A10 motorway linking the port city with the French border to the west and was managed by toll-road operator Autostrade per l'Italia, a unit of infrastructure group Atlantia.
Autostrade pledged half a billion euros on Saturday to rebuild the bridge and set up funds to immediately assist the families of the victims and those displaced from their homes by the collapse and reconstruction work.
On Friday, the government launched a procedure to revoke concessions held by Autostrade to operate toll highways.
The government will launch a plan next month aimed at making Italy's infrastructure safe, Giancarlo Giorgetti, undersecretary in the prime minister's office, said in a newspaper interview, saying it would include motorways, bridges and viaducts but also public buildings such as schools.
"It will be a maintenance operation with no precedents, with enormous investment in public works," he told Il Messaggero.
Giorgetti did not specify the cost of the plan but said "deficit, GDP or European rules do not exist" adding the European union "will be benevolent".
The European Commission limits the budget deficit of EU member states to 3 percent of GDP.
The Italian government is due to update its economic targets in September before drawing up the 2019 budget and investors are concerned the government's spending plans might ignore EU fiscal rules and push up the country's debt, the highest in the euro zone after Greece.
Asked whether the government would halt the procedure against Autostrade if investigators found the group had no responsibility for the bridge collapse, Giorgetti did not answer.