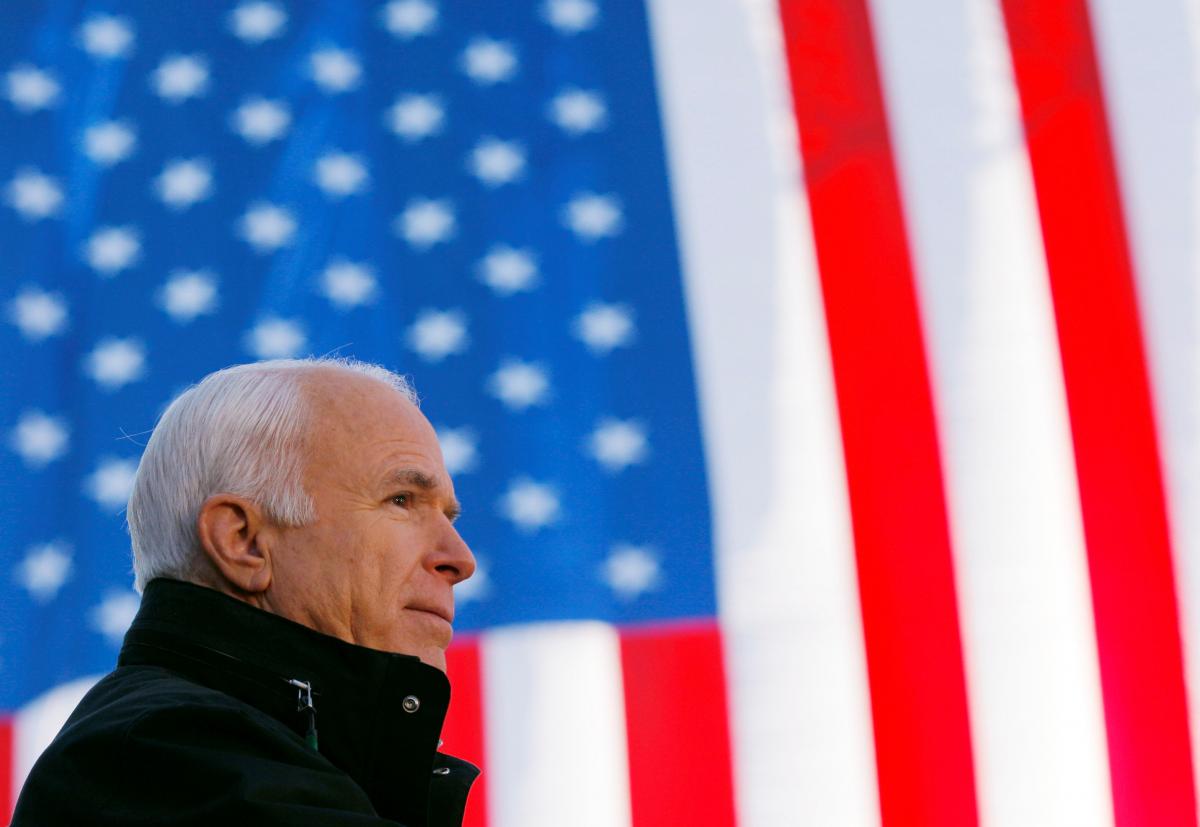 REUTERS
Senator John McCain was long reviled by Russia's state-controlled media as a deranged warmonger. President Vladimir Putin said he had "lost his roof" — in other words, gone crazy — during his time in captivity in Vietnam. Despite, or rather because of, all the abuse, however, McCain will be sorely missed in Moscow.
The Arizona senator's death last Saturday from a brain tumor has deprived the Kremlin and its propaganda machine of not only a cherished punching bag but the central protagonist in their favorite conspiracy theory — the view that Western sanctions against Russia and President Trump's inability to lift them have nothing to do with anything Russia has done but are the result of "Russophobia," according to The New York Times.
In a report on Mr. McCain's death, Rossiya 1, a state television channel, called him "the chief symbol of Russophobia" and as such the main reason Moscow's relations with the West are so bad. Life News, an outlet close to the Russian security services, declared him the West's "chief Russophobe."
The beauty of "Russophobia" from Russia's perspective is that it absolves Moscow of any responsibility for the consequences of its own actions — the annexation of Crimea, its military incursions into Georgia and eastern Ukraine, the shooting down of a Malaysian passenger jet and its repeated meddling in Western elections — and has turned the country into an innocent victim of, well, John McCain.
Alexander Domrin, a Moscow academic and administrator of a Facebook page called "Russians for Donald Trump," said he was "not sorry" that Mr. McCain had died, "because he was an enemy of my country," but conceded that finding a replacement hate figure will not be easy.
Read alsoU.S. Senator John McCain, "one of greatest friends of Ukraine," dies at 81
He mentioned Senator Lindsey Graham, the South Carolina Republican, and other critics of Mr. Putin in Washington as possible substitutes, but said: "None of them is as charismatic as John McCain. It will be hard to find somebody who can replace him as the main Russophobe."
Apparently calculating that kicking a dead man looks bad, and unsure about how to make sense of the world now that the man supposedly responsible for so many of Russia's troubles has gone, Russia's state news media has in recent days somewhat muted its previously splenetic attacks on Mr. McCain and even given voice to what pass for tributes.
"Give him credit for his honest enmity, his honest hatred and intransigence," said Margarita Simonyan, the editor in chief of the Kremlin-funded RT news network. "Others play a double game. He said what he thought."
The true flowering of "Russophobia" as a concept embraced not only by fringe nationalists but by the Russian state did not take place until the 2014 crisis in Ukraine. Russian officials and the state-controlled news media started using the term daily to explain why the West was protesting so loudly over the annexation of Crimea and Russia's military intervention in eastern Ukraine.
Accusations of Russian meddling in the 2016 United States presidential election gave the concept even more traction, with Foreign Minister Sergey Lavrov denouncing them as a "Russophobic instrument." Russia's 2017 sports doping scandal, which erupted after a whistle-blower provided all-but-incontrovertible evidence of illegal doping, was likewise dismissed as another outbreak of the West's pathology.
Throughout, Mr. McCain was cast as the principal source of all of this supposed hatred.
His place at the center of Russian demonology stems not only from his long record of resisting what he saw as Russian aggression, but also from the Kremlin's need to find a self-exculpatory explanation for why its relations with the West have soured so badly.
RT, the English-language news outlet formerly known as Russia Today, last year put Mr. McCain at the top of a list of 10 prominent Kremlin critics and awarded him a "lifetime achievement award for services to Russophobia."
The list, however, highlights how difficult it will be for Russia to find a substitute hate figure for Mr. McCain. The other "Russophobes" on the list — Hillary Clinton, the actor Morgan Freeman, a handful of journalists and a few other, mostly obscure, figures — are either has-beens or carry too little weight to step into Mr. McCain's shoes as the plausible ringleader of what is supposed to be a global conspiracy.