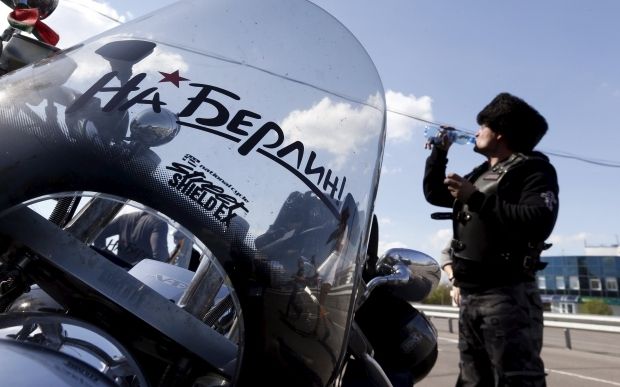 REUTERS
Deep in the forests of Slovakia, former Russian Spetsnaz commandos trained young men from a right-wing paramilitary group called the Slovak Conscripts.
Following Russia's invasion of Ukraine in 2014, some of these freshly-minted paramilitaries went to fight with Russian forces in eastern Ukraine while others stayed at home to agitate against NATO as a "terrorist organization," according to The Atlantic.
On the streets of the French city Marseille, Russian soccer hooligans sporting tattoos with the initials of Russia's military intelligence service, GRU, brutally attacked English soccer fans in June 2016, sending dozens of bloodied fans to the hospital. Alexander Shprygin, an ultranationalist agitator and the head of the All-Russian Union of Supporters (a soccer fan club that he claims was established at the behest of the Russian Federal Security Service, or FSB), was arrested during the melee and deported from France.
In Budapest's Fiumei Road Cemetery in May 2017, a Russian motorcycle gang carrying giant red flags displaying the Soviet hammer and sickle rode up to a World War II memorial. Somewhat incongruously, the tattooed bikers, accompanied by pinstriped Russian Embassy diplomats, disembarked from their motorcycles to lay red carnations in front of the memorial and then posted a video clip of it online.
"It seems almost too strange to be true: fight clubs, neo-Nazi soccer hooligans, and motorcycle gangs serving as conduits for the Kremlin's influence operations in Western countries. It sounds more like an episode of The Americans with a dash of Mad Max and Fight Club mixed in. Yet this is exactly what is happening across Europe and North America as Russia's intelligence services co-opt fringe radicals and angry young men to try to undermine Western democracies from within. And not just in the virtual world, but in real life," the edition wrote.
Read alsoPutin's biker gang sets up military-style camp on NATO soil - media
Part of the appeal of this strategy is its sheer outlandishness. It may seem implausible that Russia's secret services could recruit or radicalize skinheads or social outcasts in the West. The Kremlin can easily argue that whatever ties exist between far-right groups in Russia and the West occur spontaneously, and have no connection to the Russian state. But whether it be Serb ultranationalists in Montenegro or neo-Nazis in Hungary, the hand of Russia's intelligence services has in many cases already been exposed. Russia's ongoing war in eastern Ukraine, waged using separatist proxies under the firm command and control of the Russian military, has provided a convenient recruiting ground for right-wing fanatics from Brazil to Belarus.
After the Kremlin accelerated its covert war against Western democracies in the aftermath of its invasion of Ukraine, Russia's intelligence services dramatically ramped up their "active measures" (in Russian intelligence jargon, aktivnyye meropriyatiya or "active measures" refers to a broad range of covert influence and/or subversive operations) using radical-right and fringe groups. These groups serve as the perfect unwitting agents to accomplish Moscow's twin goals of destabilizing Western societies and co-opting Western business and political elites.
The Kremlin's recruitment of skinheads, biker gangs, soccer hooligans, and street fighters does not usually appear geared toward the armed overthrow of democratic governments. Far more often, the recruitment, indoctrination, and manipulation of fringe right-wing groups seems aimed at sowing political chaos in Western democracies and subverting or weakening democratic institutions. But occasionally, as in Ukraine, these proxies can operate directly in support of Kremlin operations.