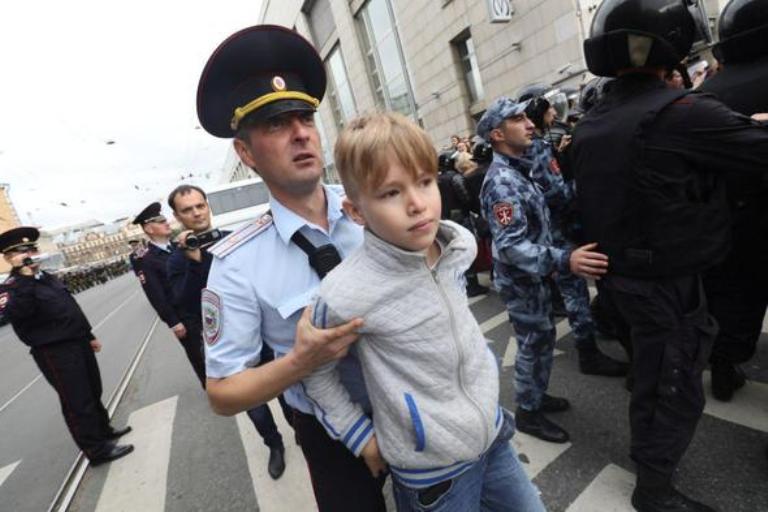 Dozhd
Russian police have broken up protests across the country against a planned increase in the retirement age.
Nearly 300 protesters were detained and some beaten with batons, the rights monitoring group OVD-info says, according to the BBC.
According to further reports, the number of those detained exceeded 800.
The rallies were called by the jailed opposition leader Alexei Navalny, who has capitalized on widespread anger against the reforms.
Read alsoKremlin opponents protest pension-reform plan as Russians cast ballots - RFE/RL
Concessions by President Putin, whose popularity has suffered as a result, have failed to stem the discontent.
The protests coincide with elections for 26 heads of Russia's 85 regions, including in Moscow, which are being held on Sunday.
From 2019, the retirement age for men and women will start being increased gradually. By 2036 it will have risen from 60 to 65 for men and from 55 to 60 for women.
Mr Putin softened the initial plan to raise women's retirement age to 63.
Russian men have a life expectancy of 66 while for women it is 77, the World Health Organization says.
Mr Navalny, Russia's most prominent opposition leader, planned to lead a protest in Moscow on Sunday, but last month a court sentenced him to 30 days in prison for breaking protest laws.
The long-time anti-corruption campaigner has said the series of short prison terms he has faced are designed to disrupt his political activity. He has vehemently denied all charges against him.