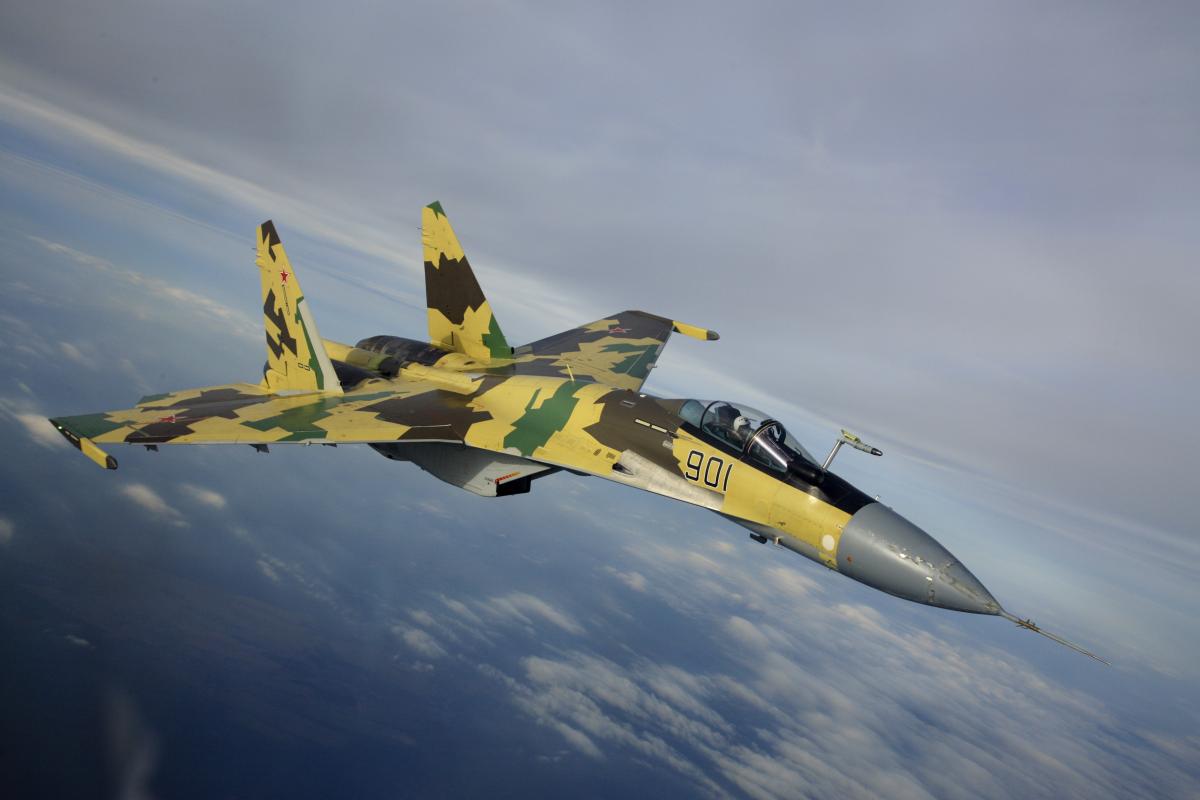 Su-35 / pogled.info
Russia's biggest military exercise in nearly four decades will get under way on Tuesday in a five-day show of its power in the Far East.
President Vladimir Putin is expected to inspect the Vostok 2018 war games involving 300,000 troops from Russia's Eastern and Central military districts, the biggest of their kind since the Zapad 81 exercise in 1981, according to Business Insider.
Both China and Mongolia are sending troops to Vostok 2018, also known as East 2018, while Turkey, a NATO member, said it was still "evaluating the offer" from Russia.
Chief of the Russian General Staff Valery Gerasimov said that many modernized and new military equipment, including tanks, aircraft and ships, would be actively involved in the drills.
Business Insider notes the five advanced weapons on show that will be worth watching:
Sukhoi Su-35 fighter jet, also known as Flanker-E, is the fourth-generation of the Russian-made fighter jet with single-seat and twin engines. It is seen as a symbol of Sino-Russian military cooperation after the PLA Air Force ordered 24 of the aircraft in 2015. As of the end of last year, 14 of the jet fighters were listed in China's inventory and the remainder and are expected to be delivered by the end of next year.
Read alsoRussia, West show war games aren't just games: ex-NATO chief
The Su-35 features passive electronically scanned array radar, capable of detecting an aerial target up to 400km away. It is also capable of tracking 30 airborne targets and engaging eight of them simultaneously.
Although the aircraft was initially designed for export only, the Russian Air Force became the first to sign up in 2009 and moved the fighter jet, along with the S-400 missile defense system, to its Far East region in 2016.
Another aircraft to note is Sukhoi Su-34 Fullback fighter bomber is an all-weather supersonic medium-range fighter jet based on the Russian Sukoi Su-27 Flanker air superiority fighter, also known as the Su-27B.
With a twin engine and twin seat, the bomber was designed mainly for tactical use against ground and naval targets. The aircraft was deployed to Iran and Syria to conduct air strikes against the Daesh jihadist groups in 2016.
With its aerial reconnaissance capability, the aircraft can attack targets at day and night. It is expected to eventually replace the Russian Air Force's Su-24 strike fighter and the Tu-22M3 long-distance bomber.
Read alsoRussia gears up for biggest war games since Cold War – media
T-90S main battle tank, weighing more than 45 tonnes, is the latest development in Russia's T series of tanks which have been in service since 1992.
The T-90S gun can fire the laser beam riding 9M119 Refleks anti-tank guided missile system with a range of 100m to 4,000m, and takes just 11.7 seconds to reach maximum range. The system is intended to engage tanks fitted with explosive reactive armor, as well as low-flying air targets such as helicopters, at a range of up to 5km.
Chinese Type 99 main battle tank, a third-generation MBT, with a 125mm smoothbore gun and carousel-style autoloader, is also known as the ZTZ99 main battle tank. It is a successor to the Type 98G armored vehicle, and was first shown during the National Day military parade to mark the 50th anniversary of the People's Republic of China in 1999.
Like the Russian T-90S, the Type 99 carries a laser beam riding 9M119 Refleks anti-tank guided missile system. But it also features an angular welded turret design inspired by the American M1A1 and German Leopard 2 tanks.
Read alsoU.S. Army beefs up its footprint in Germany - media
Admiral Gorshkov-class frigate with Kalibr cruise missiles, also known as Project 22350, is Russia's new guided missile frigate which was only commissioned in July. It is expected to show with upgraded Kalibr cruise missiles.
The Kalibr missile system is a Russian land and ship-based attack cruise missile with an estimated range of around 1,500 to 2,500km.
The ground-based missile system was used by the Russian military to attack terrorists from Islamic State of Iraq and the Levant (ISIS) and Jabhat al-Nusra in the Syria conflict.