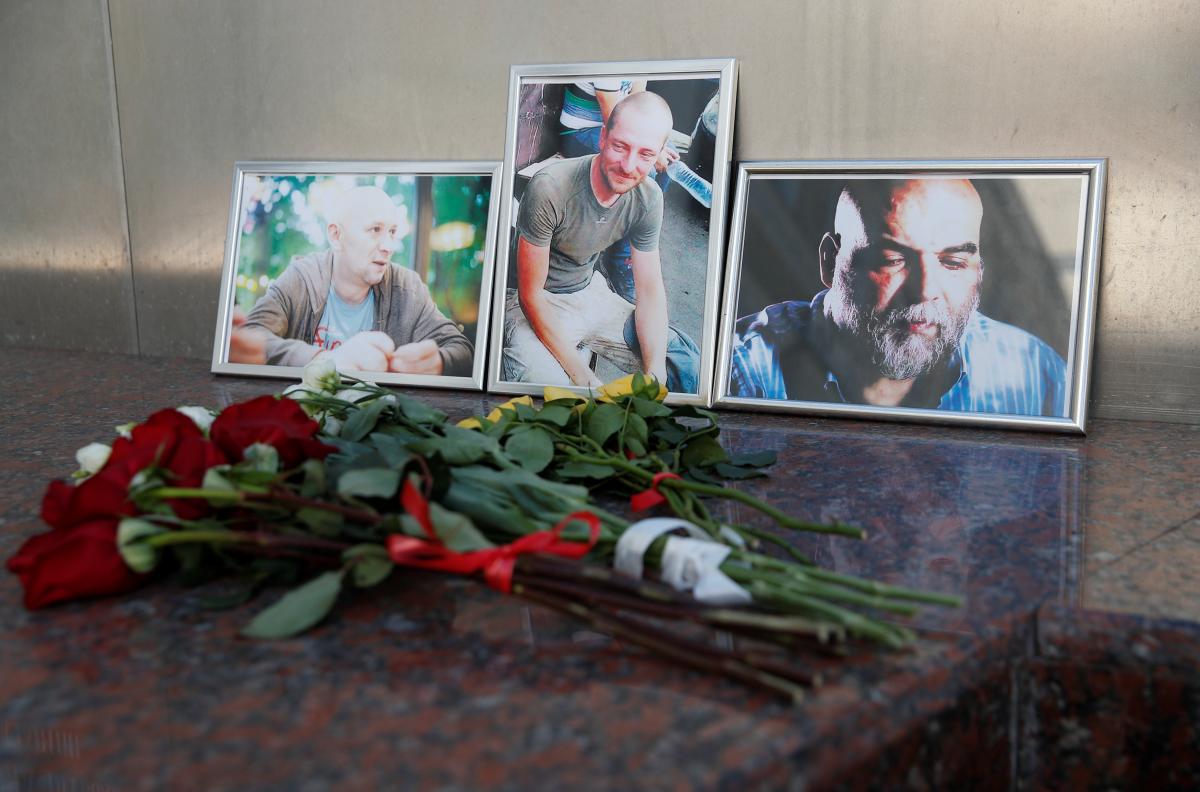 REUTERS
Russia's private military company (PMC) Patriot could be involved in the elimination of three Russian journalists in the Central African Republic (CAR) late in July this year.
The alleged motive is an investigation by one of the journalists, Orkhan Dzhemal, into the supply of Russian weapons to Africa, the Russian television station TV Dozhd (Rain) has reported with reference to sources in the Russian Defense Ministry, special services and PMC Patriot itself.
Dozhd's sources allege that the killers of three Russian nationals – journalist Orkhan Dzhemal, cameraman Kirill Radchenko and director Alexander Rastorguev – were waiting for their victims at the road. Three groups of PMC Patriot were involved in the operation: the hitmen team acted with the assistance of the support group and the cover group.
Read alsoRussian journalists killed in Central African Republic ambush
After the journalists' murder, the elimination group staged a robbery incident with traces of the struggle, Dozhd said.
A source at PMC Patriot who knows a member from the elimination group claims the motive for the murder could be Dzhemal's investigation into the supply of unaccounted weapons from Russia to Africa. The journalist was said to have learnt when a new batch was supposed to be shipped to Africa and planned his visit to record the video of the transfer.
Dozhd says PMC Patriot is related to Russia's Defense Ministry. According to it, PMC Patriot has been participating in military operations since spring 2018 and is comprised of professional servicemen, including those from the Main Department of the General Staff of the Russian Federation, military lawyers and members of the Special Operations Forces.
Members of PMC Patriot started their military career with operations in Syria.
As was earlier reported, Dzhemal, Radchenko and Rastorguev were killed in the Central African Republic after their car had been ambushed. The driver survived the incident. The three men were working on a documentary film about PMC Wagner, a shadowy private military company tied to a wealthy restaurateur turned government contractor named Yevgeny Prigozhin.
Several Russian media reported that PMC Wagner was deployed in the CAR. PMC Wagner was said to be competing with new PMC Patriot for a contract related to the protection of gold mine owners.
"According to Dozhd's sources in the Defense Ministry, the FSB, veteran and other army organizations, PMC Wagner is losing its influence and is being ousted by new military companies with PMC Patriot being in the lead," the TV channel said.
CAR authorities' version of the journalists' murder was that militants from the Seleka terrorist alliance could be involved in the killing. The village of Sibut close to which the journalists were killed is a base to a CAR battalion armed by Moscow.