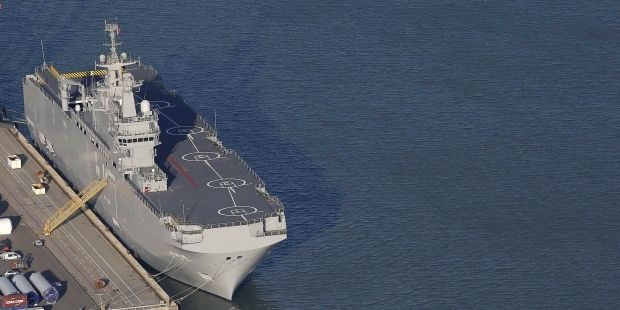 REUTERS
"It is necessary that the ceasefire in this part of Europe is fully respected," Le Drian said live on the Europe 1 radio station, the BBC reported.
"We also need a political road map. All of that would allow us hope that in the future peace can be established," he said.
According to Le Drian, only if these conditions are met will the French president consider the question of whether to finally deliver the Mistral warships to Russia.
"I see that efforts in this direction are being taken, but so far they cannot be confirmed with facts, [and] we cannot take a decision," Le Drian said.
The contract for the building of the two Mistral helicopter carriers was signed between the French company DCNS and Russian state arms company Rosoboronexport in 2011. It was planned that the first ship would enter service in the Russian Navy in 2014.
Currently, the two Mistral helicopter carrier assault ships, named the Vladivostok and the Sevastopol, are docked in the port of Saint-Nazaire. The Vladivostok is ready for delivery, while work is still continuing on the Sevastopol.
Four hundred Russian sailors had previously been in Saint-Nazaire for six months training to man the Vladivostok. However, in mid-December it was decided to bring them back to Russia before the New Year.
In November, French President Francois Hollande said he had suspended the transfer of the helicopter carriers "until further notice."
In response, Russia threatened to take legal action to recover payments it had made on the contract. The total cost of the two ships is EUR 1.37 billion.
December 24, Russian Deputy Prime Minister Dmitry Rogozin said that the warships cannot be resold to other countries, as they were made to meet the specific requirements of the Russian Navy.
"We are ready to take these ships. If something changes, then the battle will be taken up by our military lawyers. We demand again either the ships, or the money," Rogozin said.
The sanctions imposed by the European Union against Moscow for its invasion and annexation of the Ukrainian territory of Crimea and its fomenting violence in eastern Ukraine are  not supposed to affect previously signed contracts, but France's allies said the delivery of powerful modern warships to Russia was not appropriate, given the background of the events in Ukraine.