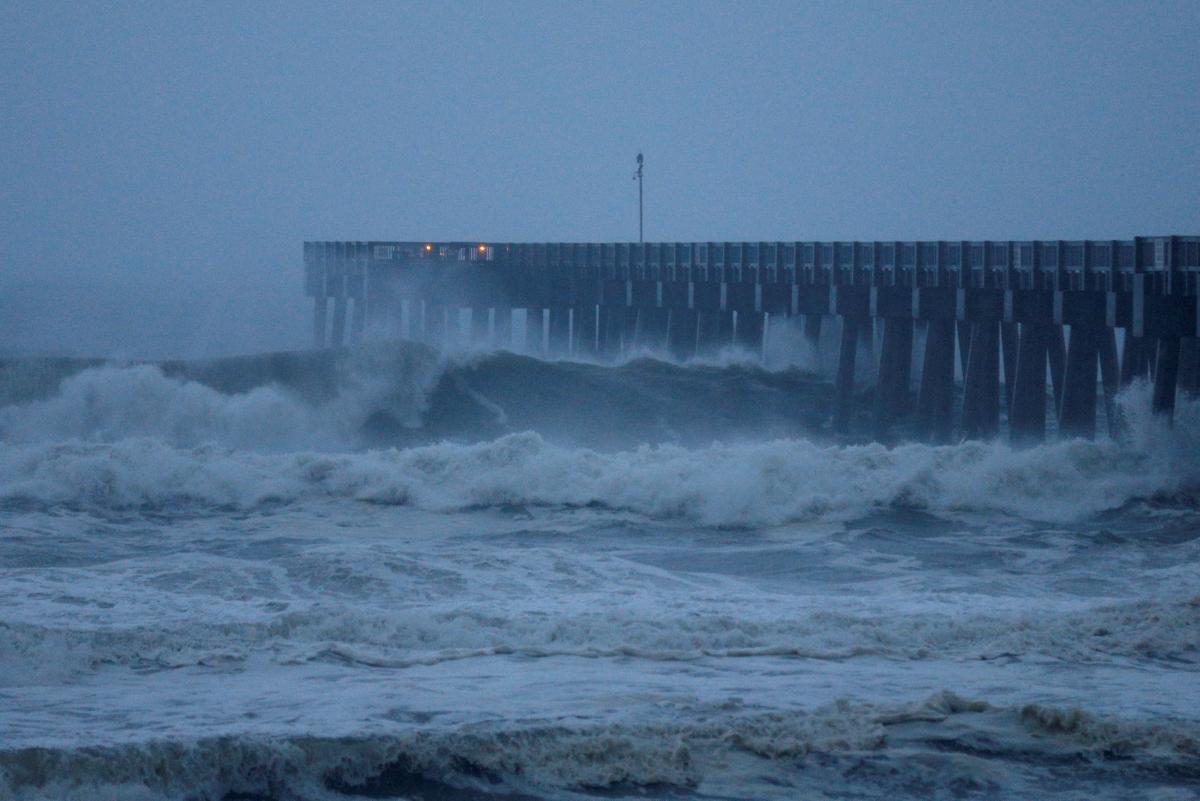 REUTERS
Hurricane Michael, the fiercest storm to hit Florida in 80 years and the third-most powerful ever to strike the U.S. mainland, battered the state's Gulf coast with roof-shredding winds, raging surf and torrential rains before turning its diminishing fury on Georgia.
Michael, whose rapid intensification as it churned north over the Gulf of Mexico caught many by surprise, made landfall on Wednesday afternoon near Mexico Beach, about 20 miles (32 km) southeast of Panama City in Florida's Panhandle region, with top sustained winds reaching 155 miles per hour (249 kph), as reported by Reuters.
The storm came ashore as a Category 4 hurricane on the five-step Saffir-Simpson wind scale, the biggest storm on record to strike the Florida Panhandle. Its sustained winds were just 2 mph (3.2 kph) shy of an extremely rare Category 5.
Read alsoHurricane Florence: Life-threatening storm starts to lash Carolinas – BBC
The storm's intensity waned steadily as it pushed inland and curled northeasterly into Georgia after dark. It was downgraded to a Category 1 storm, with top sustained winds diminishing to 75 miles per hour (120 kph), about nine hours after it made landfall.
The governors of North and South Carolina urged residents to brace for more heavy rain and storm-force winds as Michael plows northward up the Atlantic seaboard. The Carolinas are still reeling from severe flooding in the aftermath of Hurricane Florence less than a month ago.
The National Hurricane Center said Michael would pass through the Carolinas as a tropical storm on Thursday, dumping as much as 8 inches of rain in some areas. Up to a foot (30 cm) of rain was forecast in Florida.
Gadsden County sheriff's spokeswoman Anglie Hightower said a "male subject" was killed by a tree toppling onto his house in Greensboro, Florida, near the state capital, Tallahassee, in the first report of a fatality from the hurricane.
Severe flooding, heavily damaged buildings, uprooted trees and downed power lines appeared widespread in coastal areas near the storm's landfall.
Television news footage during the day showed many homes submerged in floodwaters up to their roofs in Mexico Beach, where the fate of about 280 residents who authorities said defied evacuation orders was unknown.
Numerous buildings in Panama City were demolished, partially collapsed or without roofs amid deserted streets littered with debris, twisted, fallen tree trunks and dangling wires.
Authorities said the full extent of devastation would not be known until after daybreak on Thursday. In the meantime, curfews were imposed across much of the region.
By Wednesday night, more than 403,000 homes and businesses were without electricity in Florida, Georgia and Alabama, utility companies said.
President Donald Trump declared a state of emergency for all of Florida, freeing up federal assistance to supplement state and local disaster responses.
About 3,500 Florida National Guard troops were deployed to assist with evacuations and storm recovery, along with more than 1,000 search-and-rescue personnel, Governor Rick Scott said.
The Pentagon said it had pre-positioned more than 2,200 active-duty military personnel, along with helicopters, high-water vehicles and swift-water boats for deployment as needed.
Even before landfall, the hurricane disrupted energy operations in the Gulf, cutting crude oil production by more than 40 percent and natural gas output by nearly a third as offshore platforms were evacuated ahead of the storm's arrival.