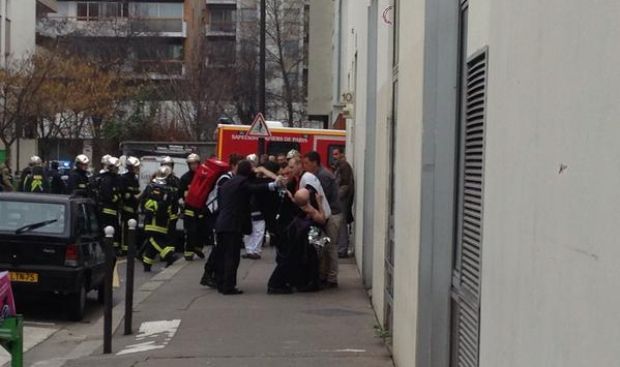 Photo from @yvecresson
According to witnesses, the attack was carried out by two black-hooded men armed with Kalashnikovs. They spoke of hearing prolonged sounds of gunfire coming from within the office, and said that the two men had escaped the scene.
Two of those killed were police officers, with a graphic video of the shooting of oneofficer by the gunmen having been posted on the Internet. Five of the wounded are said to be in a serious condition.
Although the number of gunmen was intially reported to have been two, French police have said they are seeking three suspects in connnection with the crime.
Four cartoonists at the newspaper are reported to have been killed in the attack: the publication's editor in chief, Stephane Charbonnier, as well as the cartoonists known as Cabu, Tignous and Wolinski.
The satirical newspaper has been involved in controversy in the past by publishing cartoons of the Prophet Mohammad. Its office was also firebombed in 2011.
The attackers are reported to have shouted "we have avenged the Prophet Mohammad" as they were carrying out the attack.
Ten minutes before the attack, the newspaper's office tweeted a cartoon of the leader of the Islamic State jihadist group, Abu Bakr al-Baghdadi.