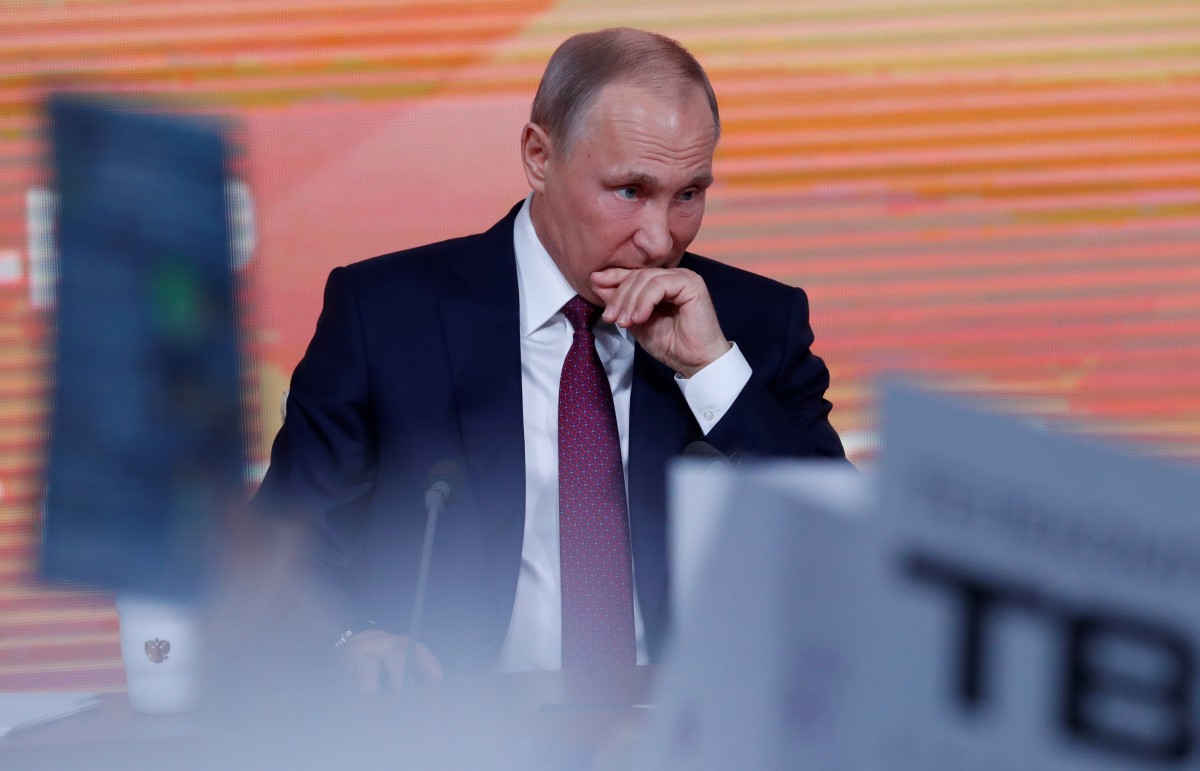 REUTERS
Fresh from offering a China-scale $25 billion loan to Egypt, Russia's President Vladimir Putin was unusually relaxed and non-combative at an annual gathering of foreign and Russian analysts in Sochi.
Cracking jokes and avoiding the angry diatribes against the West that have peppered his talks with the Valdai Club in recent years, Putin on Thursday suggested Russia can afford to wait on hot-button topics – conflicts in Ukraine and Syria to U.S. sanctions – until events change in its favor, Bloomberg reported.
A better relationship with Ukraine might come after elections and a new government in Kyiv next year, Putin said. Progress with Washington could come after next month's midterm polls, or once the next presidential vote is held in 2020, he said. Greater use of alternatives to the U.S. dollar, which would reduce the ability of the U.S. to squeeze Russia's economy, would come in time, he added.
Read alsoRussia determined to "continue Donbas war": Volker
"There's an old joke: How do you relax?" Putin said, as he argued that Russia is not in the business of raising geopolitical temperatures. "Don't get tense."
Council on Foreign and Defense Policy Chairman Fyodor Lukyanov, who moderated Putin's question and answer session, described Russia as being in "don't touch'' mode. Interviewed beforehand, Lukyanov described Russia as uncertain of how the political landscape will change over the next few years. It was for now "hesitant to touch the status quo,'' he said, after a period of intense activism from Ukraine to Syria.
Putin's opinion poll ratings have been suppressed by a deteriorating economy, as well as protests over reforms to extend the number of years for which Russians must work before retiring. So his performance Thursday may reflect bravado, or even a degree of exhaustion after years of stalemate with the West.
"There was no energy'' in Putin's two-hour-plus session, said Ivan Krastev, a Valdai Club regular and chairman of the Centre for Liberal Strategies, a Bulgarian think tank. At the same time, there was also an underlying confidence, perhaps drawn from China's growing support, he said. "Now he's got company.''
In recent months the U.S. under President Donald Trump has slapped sanctions on Beijing and kicked off a trade war. That has helped solidify the Russia-China relationship (and created a thaw between China and Japan, another country in Trump's sights on trade), while lessening Moscow's isolation in its battles with Washington.