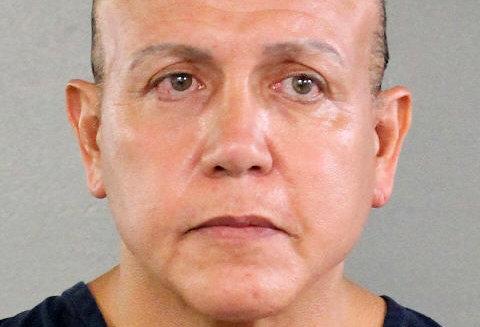 REUTERS
A suspect was arrested in the investigation of bombs sent to prominent Democrats and critics of President Trump, Attorney General Jeff Sessions announced Friday. FBI Director Chris Wray identified the suspect as Cesar Sayoc.
Sayoc was charged with five federal crimes, Sessions said during a nationally televised press conference. He faces up to 58 years in prison, according to CBS News.
Several law enforcement sources say that Sayoc was born in 1962. Records show that his full name is Cesar Altieri Sayoc and that he appears to have a criminal history in Broward County, Florida.
A fingerprint was uncovered from a package bomb sent to Democratic Rep. Maxine Waters, Wray said. The print was then connected to Sayoc.
Wray also said there was a possible DNA connection relating to one of Sayoc's past arrests. A law enforcement source had said that DNA evidence on one of the devices played a part in leading investigators to the suspect, CBS News reported.
Read alsoExplosive devices found in mail sent to Hillary Clinton, Obama
At the arrest scene Friday morning, a van in Plantation was towed away to Miramar, Florida, where an FBI field office is located, a law enforcement official said. The van's exterior features images of President Donald Trump and Vice President Mike Pence as well as a "CNN Sucks" sticker, video footage shows, according to CNN.
President Trump congratulated multiple law enforcement agencies for arresting a suspect in the package bomb investigation. "We have the best in the world, and we just showed it," the president said while addressing a group of young black leaders in the East Room of the White House.
The president didn't identify the suspect, which several law enforcement sources told CBS News is Cesar Altieri Sayoc, but he said the suspect would be prosecuted "to the fullest extent of the law." He said that the "terrorizing acts" were "despicable and have no place in our country."
"We must never allow political violence to take root in America," Mr. Trump said.