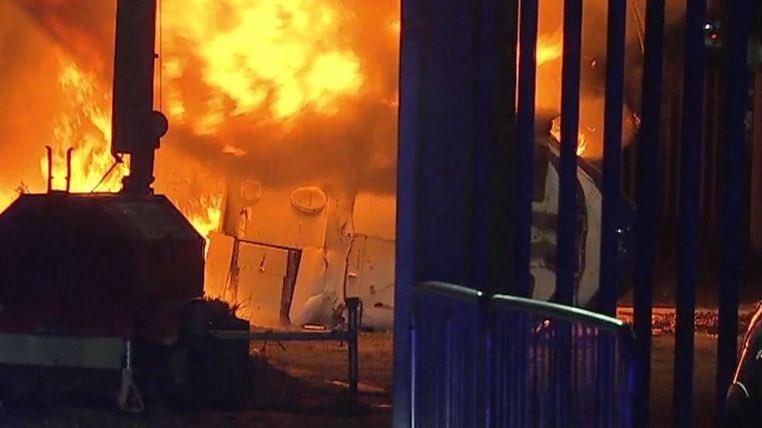 The incident occurred on Saturday / Photo from twitter.com/AndyBeech43
The Leicester City owner's helicopter has crashed in a car park outside the club's ground as it left the stadium following a Premier League match.
Vichai Srivaddhanaprabha was in the helicopter when it came down at about 20:30 BST on Saturday, a source close to the family has told the BBC.
One witness said he saw Leicester player Kasper Schmeichel run out of the stadium towards the scene of the crash.
It is not known how many other people were on board the helicopter.
Leicester had drawn 1-1 against West Ham United at the King Power Stadium, with the match finishing about one hour before the helicopter took off from the pitch.
Witnesses said they saw it just clear the stadium before it spiralled out of control, with some describing seeing a fireball as it crashed.
Read alsoUkrainian military helicopter downs Russian UAV (video)
The club said it was assisting police and emergency services and would issue a more detailed statement in due course.
Under Mr Srivaddhanaprabha's ownership, Leicester City won the Premier League in 2016, having started the season as 5,000/1 outsiders.
Freelance photographer Ryan Brown, who was covering the game, saw the helicopter clear the King Power Stadium before it crashed.
He told BBC Radio Leicester: "The engine stopped and I turned round and it made a bit of a whirring noise, like a grinding noise.
"The helicopter just went silent, I turned round and it was just spinning, out of control. And then there was a big bang and then [a] big fireball."
Sky Sports News reporter Rob Dorsett said the helicopter took off from the pitch, as it does after every game.
He said that after a few seconds it appeared to lose control and crashed into the car park just a few hundred metres away.
Leicestershire Police said officers were working alongside the other emergency services, the Air Accidents Investigation Branch (AAIB) and Leicester City FC to establish the circumstances of the collision.