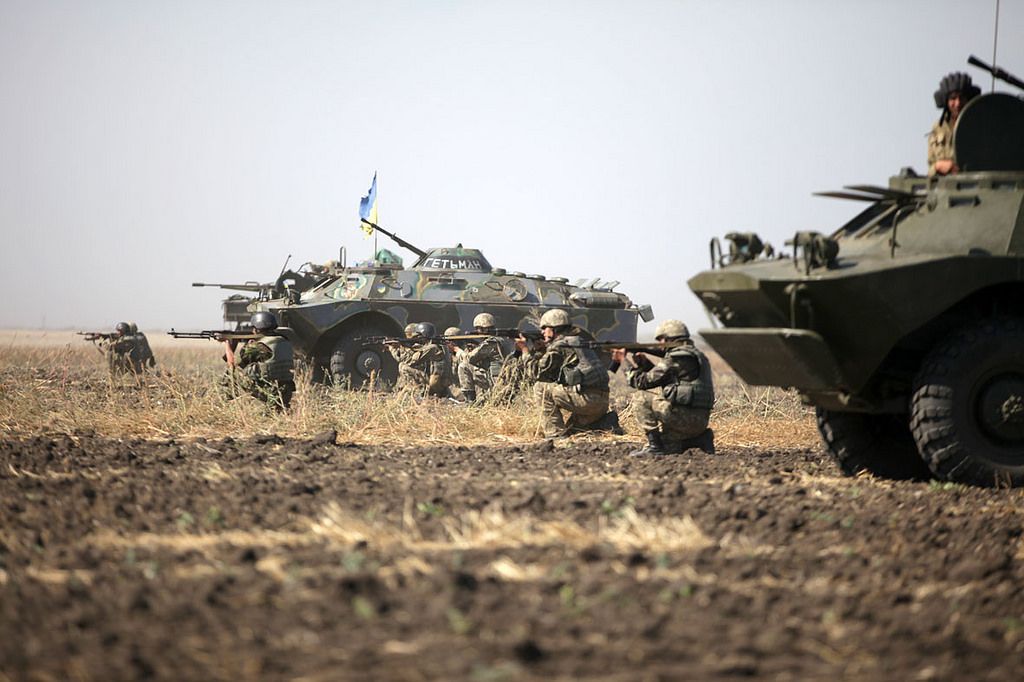 Photo from the Ministry of Defense of Ukraine
As world leaders commemorate a century since the war that was supposed to end all wars, a conflict on Europe's eastern periphery is getting more deeply entrenched.
The breakaway region of Donbas in eastern Ukraine will hold elections on Sunday, the same day as the World War I Armistice event in Paris. Separatists backed by Russia are seeking to legitimize – and normalize – their control of two self-declared republics, Donetsk and Luhansk, after four years of fighting. The U.S. has called the votes "phony." Russia has called them a necessity, Bloomberg wrote.
Billboards in Donetsk are urging people to "vote for Donbas with a Russian heart." Citizens are given promises of a more affordable life and decent pensions in "a peaceful republic."
The election is "just another step in what Russia has been doing as a process in Donbas," said Otilia Dhand, an analyst at political-risk consultancy Teneo Intelligence in Brussels. "This is replacing the first order of revolutionaries and separatists" with a group of "political nominees they want to administer the territory."
Read alsoOSINT expert: Self-proclaimed republics continue preparations for "elections"
Ukraine marks the fault line between Russian power and western influence, particularly since millions took to the streets in two revolutions in 14 years. But in the new world order of Donald Trump and Vladimir Putin, the conflict in the former Soviet state is an increasingly forgotten one, frozen in time with no peace in sight and with Russia tightening its grip.
The armed confrontation has left at least 10,000 people dead and derailed any vague hope of Ukraine's accession to the European Union and NATO. Daily shelling still occurs. At least 39 civilians were killed and 166 wounded so far this year, the Organization for Security and Co-operation in Europe said last month. Russia rejects calls for a UN peacekeeping force on the border between the two countries.
While international sanctions against Russia remain in place, Ukraine hasn't been a priority for Trump in his relationship with Putin. Both men will be in Paris this weekend, though it's unclear if they will hold any talks before a fuller meeting at the Group of 20 summit at the end of this month. Whatever happens, Ukraine is unlikely to be high up the agenda and the country has turned into collateral damage in the shift in U.S. foreign policy.
Read alsoVolker: New sanctions recognize Russia controls occupied part of Donbas
The man expected to become head of state in the self-declared Donetsk People's Republic is Denis Pushilin, the Kremlin-backed interim leader. In neighboring Luhansk, it's Leonid Pasechnik, who was formerly in charge of the anti-smuggling department at Ukraine's security services and talks about integrating with Russia.
Pushilin replaced Aleksandr Zakharchenko after he was assassinated by a bomb at a cafe in August. Unlike Zakharchenko, the 37-year-old doesn't wear army fatigues and doesn't boast about his military abilities. Before becoming a politician, he worked for a successor of a Russian Ponzi scheme company MMM, which cost its clients millions of dollars in the early 1990s.
But Russia plays a big role in the daily existence of people living in the separatist areas because it provides pensions, salaries and fuel. The ruble replaced the Ukrainian hryvnia as the official currency in 2015.
"It's ridiculous that a former MMM guy is being promoted as a president," said Larysa Fedoruk, 65, a pensioner in Donetsk. "But I am afraid that I will lose my pension if I don't vote."
Ukrainian President Petro Poroshenko hopes the "illegal elections" will trigger new sanctions against Russia. The U.S. special representative for Ukraine negotiations, Kurt Volker, said on Thursday more are coming.
The risk, though, is that the elections only follow a playbook familiar in other breakaway areas such as Transnistria, which was part of Moldova, and South Ossetia and Abkhazia in Georgia. Indeed, it was Russia's formal annexation of Crimea from Ukraine in 2014 after a referendum that initially destroyed decades of improving post-Cold War relations.
Read alsoEU reiterates non-recognition of illegal elections in Donbas
Russia recognized South Ossetia and Abkhazia as independent states after the 2008 war with Georgia and signed defense agreements with them, which means Russian troops are based there. In Transnistria, they are there as "peacekeepers" and the breakaway republic isn't recognized by Moscow. Russia insists it has no forces in eastern Ukraine.
The elections in Donbas are "extremely important," according to Kremlin spokesman Dmitry Peskov. The U.S., EU and Ukraine said they break the pact signed in Minsk, Belarus, in 2015 that was supposed to stop the fighting.
Volker said on Thursday the elections had no legitimacy and what the region really needs is a UN peacekeeping mission. There are 3.4 million civilians in urgent need of protection and access to food, water and shelter, he said.
"They are under conditions of occupation," he said on a telephone call with reporters. "There is no freedom of expression, there is no freedom of movement, no freedom of campaigning and therefore genuinely no freedom of choice for the people in electing candidates for legitimate local leadership positions."