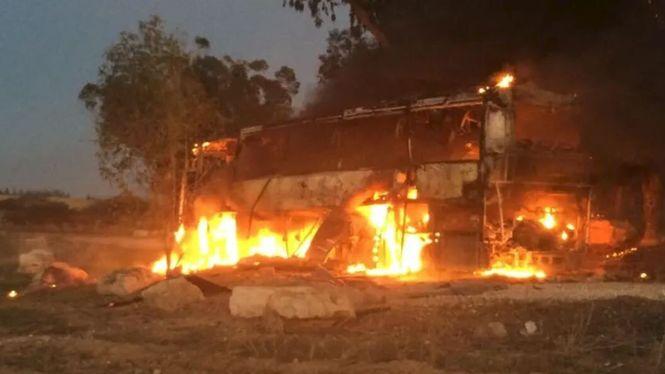 Photo from Israel Defense Forces via Twitter
The Israel Defense Forces have reported that the number of rockets fired by the Palestinian side at Israel in the past five hours has climbed to 300.
The Israeli military says some 300 rockets and mortar shells have been fired by Palestine's Hamas in the Gaza Strip at southern Israel, making today's barrage the largest attack from the coastal enclave since the 2014 Gaza war, The Times of Israel, an Israeli-based online newspaper, has reported.
The military says dozens of incoming projectiles were shot down by the Iron Dome air defense system.
A number of rockets struck homes in cities and towns throughout southern Israel, but most of the projectiles landed in open areas, the army says.
A spokesman for the Barzilai Medical Center in Ashkelon says doctors at the hospital are currently treating 20 Israelis after a rocket hit the city earlier this evening.
Thirteen of the victims suffer from post traumatic stress and seven suffer from injuries caused by shrapnel.
Israel came under a heavy barrage of rocket fire from the Gaza Strip on Monday, a day after a flare-up in which an Israeli officer and seven Palestinians were killed, according to Israel's Haaretz.
Over 300 rockets were launched from Gaza at Israel this evening. In response, we are striking terror targets throughout the Gaza Strip. pic.twitter.com/2rfIZv2wT8

— Israel Defense Forces (@IDFSpokesperson) November 12, 2018