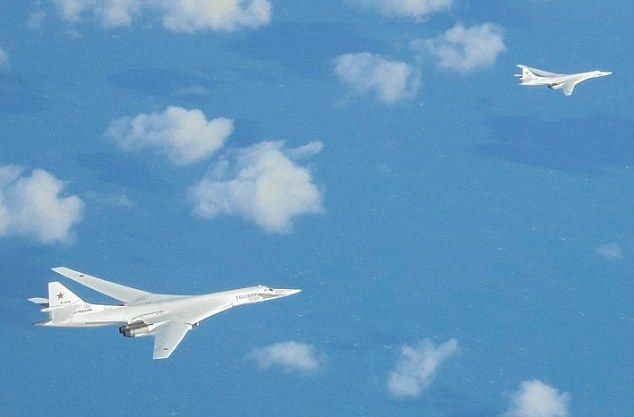 dailymail.co.uk
Russia's Defense Ministry said a pair of Tu-160 nuclear-capable Tu-160 (NATO codename Blackjack) strategic bombers landed at Maiquetia airport outside Caracas on Monday following a 6,200-mile flight. It didn't say whether the bombers were carrying any weapons and didn't say how long they would stay in Venezuela.
The pair was accompanied by another two planes and a hundred-strong team of crew and other personnel.
The Tu-160 strategic long-range supersonic bomber is capable of carrying conventional or nuclear-tipped cruise missiles with a range of 3,410 miles, according to NBC News.
The bombers' deployment follows Venezuelan President Nicolas Maduro's visit to Moscow last week to shore up political and economic assistance even as his country has been struggling to pay billions of dollars owed to Russia. Meanwhile, inflation in Venezuela reached an astounding 1.3 million percent, according to Reuters.
Read alsoPutin mulls Russia retaliation if U.S. quits INF Treaty – media
U.S. State Secretary Mike Pompeo has commented on Russia's move
"Russia's government has sent bombers halfway around the world to Venezuela. The Russian and Venezuelan people should see this for what it is: two corrupt governments squandering public funds, and squelching liberty and freedom while their people suffer," Pompeo wrote on Twitter on Monday.
Pentagon also stated that the Venezuela government should focus on providing humanitarian aid to their people rather than Russian warplanes.
Russia is a major political ally of Venezuela, which has become increasingly isolated in the world under growing sanctions led by the United States and the European Union, which accuse Maduro of undermining democratic institutions to hold onto power while overseeing an economic and political crisis that is worse than the Great Depression.
Russian Defense Minister Sergei Shoigu said at last week's meeting with his Venezuelan counterpart, Vladimir Padrino Lopez, that Russia would continue to send its military aircraft and warships to visit Venezuela as part of bilateral military cooperation.