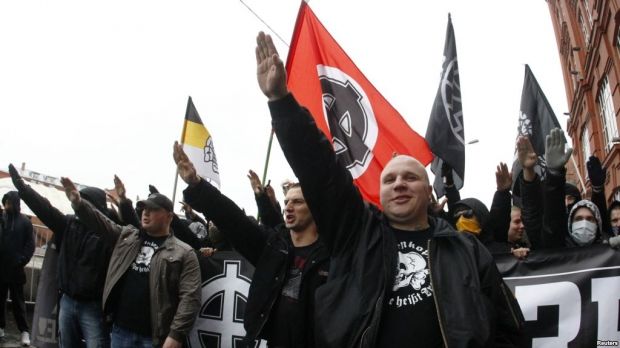 REUTERS
As Ukrainian President Petro Poroshenko ended martial law in the country on Wednesday, Russian officials lashed out at the Ukrainian leader, claiming that he supports far-right groups and that Washington is turning a blind eye. Analysts, however, note that the comments are misleading and in line with the Kremlin's efforts to spread misinformation.
In an interview with the Russian outlet Rossiyskaya Gazeta on Wednesday, the head of Russia's Security Council and former head of the FSB, Nikolai Patrushev, said, "Leaders of ultra-rightist groups from the U.S. have been training for months together with radical organizations in Ukraine," Newsweek wrote.
"Feeling such support, Poroshenko confidently resorts to provocative steps, including on the Ukrainian-Russian border…In the light of upcoming [Ukrainian presidential] elections, it can be predicted that new such actions with U.S. support could be expected in the near future," Patrushev said, echoing the accusations that other Russian officials have been making for days that claim that Ukraine is preparing to attack Russian troops.
Read alsoKremlin waging Cold War against U.S. over decade – Ex-ambassador to Ukraine
"Nazi symbols, the rhetoric of ethnic superiority, Russophobe ideas, all of this has become an integral part of Kyiv's state policy," Patrushev continued, accusing Washington of "closing its eyes" to the links between Poroshenko and the Ukrainian far-right.
But many experts say that it is Russia, not Ukraine, that is planning an attack, and they argue that Russia's accusations aim to provide justification for whatever military action Moscow has planned.
The U.S. and other North Atlantic Treaty Organization (NATO) countries have offered some limited support to Ukraine as tensions rise with its neighbor, which has been supporting pro-Russian separatists in Ukraine for five years. In May, Congress approved $250 million in military assistance to Ukraine for 2019, including the sale of lethal weapons.
Meanwhile, reports have revealed that ties exist between far-right, white supremacist groups in the U.S. and right-wing nationalist groups in Ukraine.
But Patrushev's comments appear to connect these two disparate issues and conflate Washington's official support for Kyiv with transnational links between far-right groups.
"Poroshenko gets no benefit from far-right activities in Ukraine, which are minimal. Far-right parties are not represented in the Rada [Ukrainian parliament]. Kremlin disinformation plays up the notion of Ukrainian 'fascism,' but compared to most countries in Europe, right-wing extremism is quite weak in Ukraine," ambassador John Herbst, who was U.S. ambassador to Ukraine from 2003 to 2006, told Newsweek.
Read alsoPoland bans entry of ultra-right radicals from Russia, Sweden ahead of Independence Day events
In June, a report by the Washington D.C.-based organization Freedom House noted that far-right groups have become more active in Ukraine in the first half of 2018 and that their actions often go unpunished by Ukraine's police force. But Russian state propaganda often tries to portray these groups as much more influential than they really are. In October, officials from Russia's Federal Security Service (FSB) accused Ukraine's government of working with the far-right and the Islamic State group (ISIS) to plot terror attacks in Russia, but they provided no evidence to back up that claim.
In reality, Ukrainian far-right groups like Azov, the Right Sector, Tradition and Order, and the Revolutionary Right Forces, among others, are estimated to have anywhere between dozens to hundreds of members. Their political power, meanwhile, is almost negligible.
"President Poroshenko is the last person among the Ukrainian governing and political elites having any ties with [the] far-right or having any interest in that kind of link, whatsoever. For anyone who has any basic knowledge of the Ukrainian far-right, linking Poroshenko to them would be just bizarre and factually incorrect," Maxim Eristavi, a nonresident senior fellow at the Atlantic Council, told Newsweek. "There are other people within the government, like interior minister Avakov, or within the parliament, who have quite open and strong ties with local fascist groups."
Meanwhile, Eristavi also notes that far-right groups in the U.S. have also formed ties with Russian political movements.
"These days fascist groups maintain remarkably efficient and strong cross-border ties with other far-right groups across the globe. But looking at whole region comparatively, I'd say there's more evidence of strong cooperation and ties between American and Russian far-rights, than between Ukrainian and American. Ukrainian far-rights are more involved with European groups," Eristavi noted.