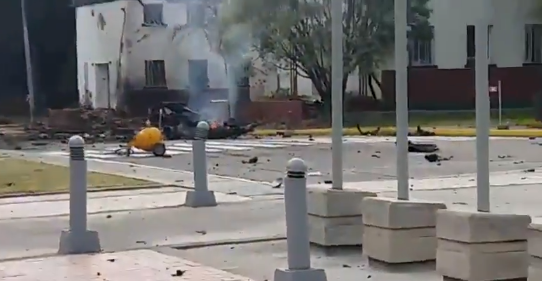 twitter.com/rcnradio
At least nine people were killed and dozens more injured in a car bombing at a police academy in Colombia's capital on Thursday, recalling the high-profile attacks associated with bloodiest chapters of the country's drug-fueled guerrilla conflict.
The scene outside the General Santander police academy in southern Bogota was chaotic in the immediate aftermath of the midmorning attack, the biggest against a police or military facility in the capital in over a decade, with ambulances and helicopters rushing to the normally tightly controlled facility, PBS News Hour reported.
Witnesses said they heard a loud blast that destroyed windows in adjacent apartment buildings several blocks away. Pictures on social media showed a charred vehicle surrounded by debris on the academy's leafy campus.
The police said at least nine people were killed, while Bogota's health department said another 54 were injured. Among the dead were a Panamanian and an Ecuadorian national.
Read alsoReuters: Bomb kills two Vietnamese tourists near Cairo pyramids
Authorities were at a loss to explain how the vehicle, apparently a pick-up truck, slipped through a gate permanently protected by explosive-sniffing dogs, heavily-armed guards and security cameras.
President Ivan Duque said he and his top military commanders were rushing back to the capital from a visit to a western state to oversee police investigation into what he called a "miserable" attack.
Health authorities in Bogota appealed for residents to donate blood at one of four reception points in the capital to help treat those injured, the majority of who were rushed to a police hospital.