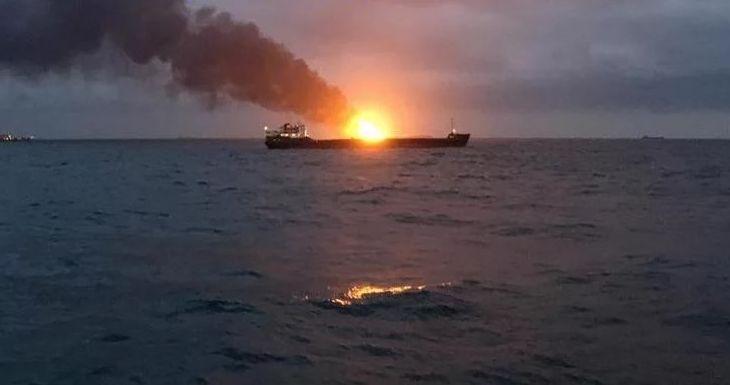 The incident happened near Cape Takil / Photo from kerch.fm
Ukraine's Ministry of Temporary Occupied Territories and Internally Displaced Persons says that the two LPG tankers, the Maestro, built in 1990, and the Venice (formerly the Candy), built in 1992, that were sinking near the Kerch Strait in the Black Sea after they had caught fire because of an explosion, were involved in illegal gas supplies to Syria since 2016.
"According to the Office of Foreign Assets Control of the U.S. Treasury (OFAC), the Venice and the Maestro had been involved in illegal gas supplies to Syria since 2016," the ministry said late on Monday, January 21.
According to international monitoring systems, the Venice tanker left the Russian port of Temryuk on January 20, 2019, but its automatic identification system (AIS) was not working at the moment of the incident.
"The situation with the Maestro tanker was the same – the latest information about the vessel was recorded by the AIS on January 9, 2019," the ministry said.
The AIS allows "not only to respond in a timely manner to ship accidents and provide assistance to victims, but also to monitor violations of navigation rules and illegal border crossings," the ministry said.
"Such actions of foreign companies engaged in transportation by sea are an attempt to shun liability under Ukrainian legislation and avoid possible international sanctions for such violations," the ministry said.
"Now it is difficult to establish the origin of the gas that was transported, but according to the available information, the Venice and Maestro vessels were involved in the supply of gas both produced [by Russia illegally in] the Ukrainian shelf and delivered from other countries," it said.
According to the ministry, the said vessels used to enter the ports closed by Ukraine in occupied Crimea and they were thus violators of the regime of the temporarily occupied territories.
As UNIAN reported earlier, the two vessels caught fire after an explosion. The violation of safety rules during a ship-to-ship fuel transfer is said to be the cause behind the incident, according to one of the preliminary theories.
The fire occurred on the two ships flying the flag of Tanzania at 18:00 Moscow time on January 21. The vessels were anchored in the neutral waters, outside Russia's territorial waters. The scene is located 15 nautical miles from Cape Takil.
Read alsoAt least 11 sailors die after two foreign vessels catch fire in Kerch Strait – Russian media (Video)
According to preliminary data, there were 31 sailors on board the vessels. They were citizens of Turkey and India. There were nine citizens of Turkey and eight citizens of India on board the Venice, and there were seven citizens of Turkey and India each on board the Maestro. The people are said to have jumped overboard.
At least 14 people were reported dead, another five were missing, according to the local media Kerch.FM.