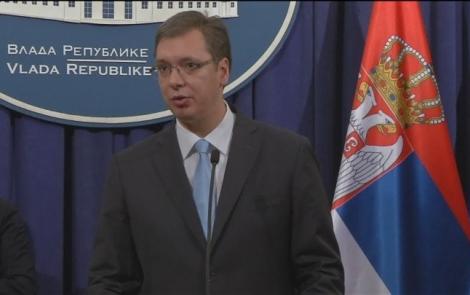 Photo from UNIAN
Several thousand protesters took to Belgrade streets on Saturday, January 26, urging Serbian President Alexander Vucic to step down.
Addressing the rally, former Supreme Court Judge Zoran Ivosevic said that Vucic must file for resignation so that Serbia could become a legal state again, according to Deutsche Welle.
Also, Ivosevic accused the president of violating the principle of balance of powers.
The protesters marched through the center of Belgrade toward the government headquarters and that of the pro-government state television channel RTS.
Read alsoBeset by protests, Serb leader stages lavish reception for Putin – Reuters
Mass protests in Belgrade began on December 8 after a group of people wearing black shirts brutally assaulted opposition's Left Party leader Borko Stefanovic of November in the city of Krusevac in the country's south. The politician was beaten with an iron bar and left severely injured.
Suspects in the attack were soon detained, but then released shortly before Christmas due to lack of evidence.
Vucic condemned the incident, but the opposition says it is hos rhetoric and defamation of critics and opposition figures that has created a climate of intolerance across the country.
They also claim that the Serbia's ruling Progressive Party was behind the  beating.