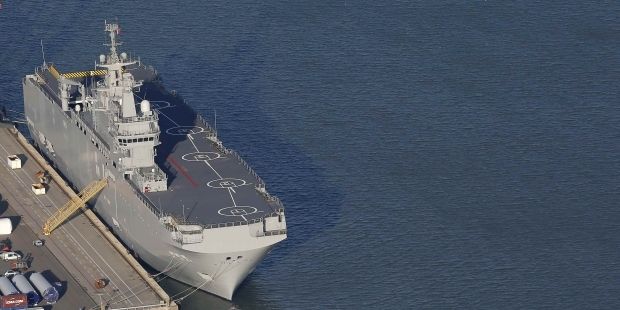 REUTERS
"How can we fulfill under present circumstances the terms of a transaction negotiated few years ago? At the moment it is suspended," Fabius said.
The EUR 1.2 billion contract for the two Mistral helicopter carriers was signed between the French company DCNS and Russia's Rosoboronexport in 2011. The first ship, the Vladivostok, was expected to go into service in the Russian Navy in 2014, while the second, named the Sevastopol, was to be commissioned in 2015.
Currently, two Mistral-class helicopter carriers are in the port of Saint-Nazaire.
Last year 400 Russian seamen were stationed in Saint-Nazaire for six months of training in how to operate the Vladivostok. However, in mid-December, it was decided to bring the sailors back to Russia by the New Year.
In November President François Hollande suspended the delivery of the first of Mistral helicopter carrier to Russia "until further notice."
The sanctions imposed by the European Union against Russia do not affect the implementation of previously signed contracts, but France's allies have said the transfer of the Mistrals would have been unreasonable given the background of the events in Ukraine.