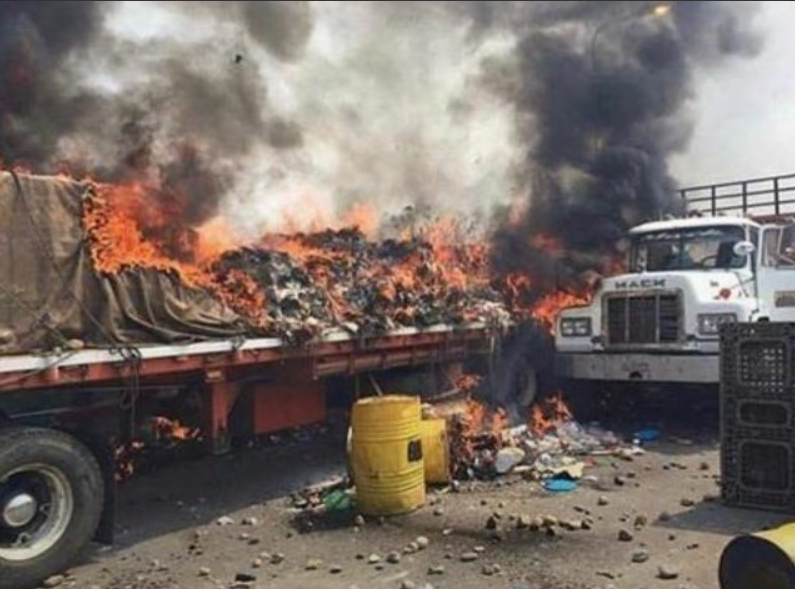 twitter.com/apichardob
Juan Guaido, Venezuela's self-declared interim president, proposed that Washington consider "all options" to oust Nicolas Maduro on Saturday night after troops violently repelled foreign aid convoys from the border.
At least two people were killed and around 300 injured in violent clashes at border crossings, while humanitarian aid destined for Venezuela was set on fire, seemingly by troops loyal to Mr Maduro, according to The Telegraph.
Volunteers working for Mr Guaido frantically tried to salvage the medical supplies and emergency rations before they went up in flames.
Hours after the chaotic scenes, Mr Guaido said Mr Maduro's use of troops to violently block the entry of humanitarian aid meant he would propose to the international community that all options remain open to oust him.
Read alsoMaduro tells Venezuela firms to open accounts in Russia – Bloomberg
"Today's events force me to make a decision: To formally propose to the International Community that we must have all options open to secure the freedom of our country, which fights and will keep fighting," said Mr Guaido, who will meet the Lima Group of regional leaders in Bogota on Monday. Mike Pence, the U.S. vice-president, will also attend the gathering.
Angered by Colombia's support for Guaido, Mr Maduro announced Venezuela was severing diplomatic ties with Bogota, and gave Colombian diplomats 24 hours to leave the country.
Mr Maduro had ordered the Venezuelan military to close the border with Colombia to bar humanitarian aid, which is being supported by the opposition, from entering the country.
El régimen usurpador se vale de los actos más viles e intenta quemar el camión con ayuda humanitaria que se encuentra en Ureña.

Nuestros valientes voluntarios están realizando una cadena para salvaguardar la comida y las medicinas.

La avalancha humanitaria es indetenible pic.twitter.com/bU2PPzSGcu

— Juan Guaidó (@jguaido) February 23, 2019
As many as 300,000 Venezuelans are in dire need of food and medicine after years of shortages and malnutrition, according to Guaido. The country is gripped by a humanitarian crisis that has seen poverty soar during a prolonged recession.
United Nations figures show that some 2.7 million people have fled Venezuela since 2015 amid the crisis, and some 5,000 Venezuelans emigrate from their country each day.
Mr Guaido, recognised by most Western nations as the country's legitimate head of state, invoked articles of the constitution in January to assume interim presidency and denounced Mr Maduro as a usurper, arguing his 2018 re-election was illegitimate.
The opposition leader was attempting to cross into Venezuela from the Colombian border with thousands of volunteers carrying emergency supplies.
While the need for basic food and medicines is real, the effort is also meant to embarrass military officers who continue to support Mr Maduro's increasingly isolated government.