EU President Tusk: more sanctions against Russia over Ukraine "remain on the table"
23:23, 25 February 2015
World
The EU President says that the EU remains "very sceptical" because of non-fulfilment of the Minks accords.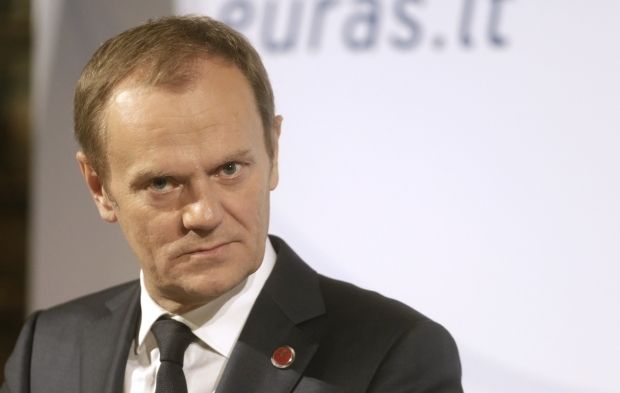 REUTERS
European Union President Donald Tusk reiterates that the EU will be ready to impose fresh sanctions against Russia over Ukraine if the Minsk agreements are not fulfilled.
Tusk announced this in European parliament on Wednesday when reporting the results of an informal meeting of the EU Heads of State or Government held on February 12, an UNIAN correspondent from Brussels reported.
Tusk said that at the February 12 meeting, the EU leaders exchanged views with Ukrainian President Petro Poroshenko on the situation in Ukraine, and thanked German Chancellor Angela Merkel and French President Francois Hollande for their "indispensable efforts for peace as the initiators of the Normandy Four talks."
"We gave the fragile agreement our cautious support. The European Union still hopes for peace so that the independence, sovereignty and territorial integrity of Ukraine can be restored as soon as possible," he said.
However, the EU president said the EU remains "very sceptical". "The 2014 Minsk agreement was not honoured. Debate among the leaders focused on how to support the implementation of the new peace deal. If this does not happen, we will not hesitate to take the necessary steps," Tusk said.
"The European Union stands united on this question and will stay the course. Additional sanctions remain on the table. We should be ready for any development, good or bad," Tusk added.
"We now look ahead to the March European Council. In the next three weeks, we will follow the situation in Ukraine," Tusk said. According to him, the March summit will also be a time to consider the strategic outlook for the Eastern and Southern neighborhoods.
If you see a spelling error on our site, select it and press Ctrl+Enter