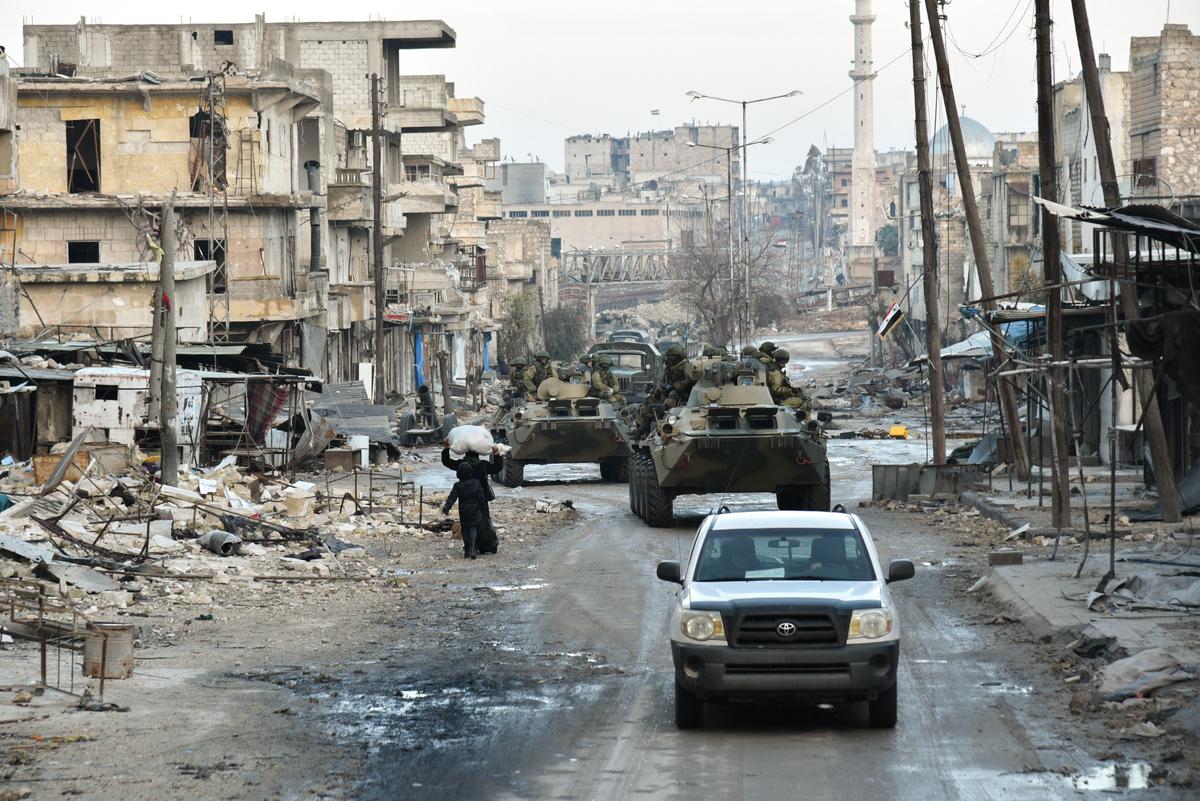 Wikimedia Commons
The Conflict Intelligence Team (CIT) investigative group has said that recently surfaced photos and videos show a Russian-Ukrainian company training a pro-Syrian government Palestinian group "Liwa al-Quds."
Unlike the so-called "Wagner PMC," this company better fits the description of a private military company, CIT said.
On January 20, former pro-Kremlin ANNA News reporter Oleg Blokhin started posting photographs of military instructors wearing St George ribbons (a pro-Kremlin nationalist symbol) and Russian flag patches. Later he posted photos of the same instructors with patches of a private military company "Vegacy Strategic Services Ltd." The photos and videos posted by Blokhin suggest Russian-speaking instructors have been training a Syrian Palestinian pro-Assad group Liwa al-Quds.
Read alsoU.S. General tells of Russian Wagner PMC presence in Africa
"We have covered this group's close cooperation with the Russian forces, in particular during the 2016 siege of Aleppo. Since then, the group's cooperation with the Russian military strengthened even further: in 2017-2018, Liwa al-Quds, supported by the Russian Air Force, took part in all major offensives by the Syrian opposition and IS militants. According a 2016 article by analyst Amir Toumaj, the group, whose name means 'Jerusalem Brigade,' plans to continue their fight beyond Syria to 'liberate' Jerusalem and the entire Palestine. The group was also seen to employ child soldiers, which is a violation of international humanitarian law," reads the report.
According to a Lebanese online media outlet "Al-Modon," in 2019 Russia's support to Liwa al-Quds grew significantly: the group got hundreds of new recruits who were trained north of Aleppo city. According to Al-Modon, Liwa al-Quds is involved in the proxy Russian-Iranian conflict within the pro-regime coalition on the Russian side.
A company with the name Vega Strategic Services (not Vegacy) was created in April 2011 in the Ukrainian city of Mykolaiv by former members of international elite and special forces of Russia and Ukraine, per the description enclosed to the list of companies who signed the International code of conduct of private security agencies. Vega Strategic Services offered security to individuals and companies in high-risk environments, as well as maritime security.
A year after the company was founded, it moved to Cyprus and changed its name to Vegacy Strategic Services Ltd. It was registered in June 2012 and terminated a year ago (May 2018), according to the Cypriot register of companies. At the time, the company's 50% owner was a Ukrainian national Anatoly Smolin. He was also listed as its director.
Companies linked to Vegacy Strategic Services Ltd work both in Russia and Ukraine. The company's head office is in Cyprus, another is in Moscow. It has representatives in Syria, the United Kingdom, Germany and Thailand.
CIT contacted Anatoly Smolin, but he refused to speak on the activities of Vegacy Strategic Services Ltd. "No comments!!!," he replied (punctuation left unedited).
Another person behind the rise of Vega was Andrey Kebkalo, who founded another organization that is often called a private military company – Omega Consulting Group. In one of his interviews, Kebkalo told about how he helped create Vega: "I was one of the people who created Vega. Later, according to certain reasons, I couldn't work with the company's co-founder A. Smolin."
Kebkalo replied to a CIT inquiry, confirming that he did create the company together with Smolin.
"The idea behind Vega was to present the first Ukrainian PMC to the international market," he said.
"Vega is, apparently, the first 'classic' PMC, active in the international security market, which has been working in Syria with pro-government forces. Unlike the so-called 'Wagner PMC,' Vega does not engage in frontline operations, instead providing training to government troops and security to key facilities – like their Western counterparts. Their Liwa al-Quds trainees' close connections to the Russian military in Syria suggest that the Russian commanders are at least aware of Vega's work. However, it is currently unknown who funds this PMC's activities in Syria," the experts said.