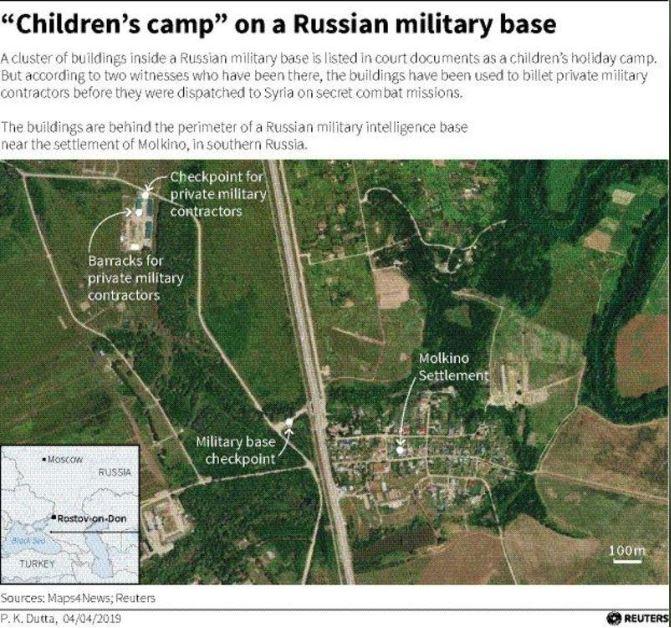 REUTERS
Barracks in the village of Molkino in Russia's Krasnodar Area, where mercenaries fighting for Russia's private military companies are housed, were constructed as a children's vacation camp, by a company affiliated with Russian businessman Yevgeny Prigozhin aka "Putin's chef", the journliastic investigation revealed.
The three barrack buildings stand behind the perimeter of a defense ministry base, and two witnesses say they have seen private fighters being billeted there before they are dispatched to fight in Syria for President Bashar al-Assad, Reuters wrote in its exclusive report.
Yet on paper, the barracks have nothing to do with the Russian defense ministry: court documents list them as a children's vacation camp, the investigation says.
And the construction of the buildings was commissioned by an obscure private company, Megalain, without the publicly available paper trail that is legally required for projects funded by public money.
Megalain is a firm linked to Russian businessman Yevgeny Prigozhin, who has appeared on a U.S. sanctions blacklist for his dealings with the Russian defense ministry.
Read alsoReuters Exclusive: Russian civilians helping Assad use military base back home – witnesses
Reuters was unable to establish Prigozhin's role, if any, in the construction project and could not determine how Megalain was selected to build the facility or who paid for it.
But the secrecy surrounding the purpose of the buildings erected on defense ministry land is an example of how companies involved in the covert campaign in Syria, where private fighters support Russia's military, camouflage their activities.
The barracks near the village of Molkino in southern Russia were a staging post for Wagner PMC fighters, according to one person close to them who stayed in the buildings, and a second person who visited the site.
Read alsoWagner PMC part of Russian military intel, IDs of "mercenaries" confirm – Ukraine security chief
Concord Management and Consulting, Prigozhin's main business, said questions submitted by Reuters "have no relation to reality."
"We consider the agency itself to be a biased media outlet," it said.
Reuters has documented over several years how private combatants are fighting and dying in Syria, and that they are using logistical support and infrastructure provided by the Russian defense ministry.
Read alsoSBU refutes fake report on "Ukrainian PMC" operating in Syria
Russian officials have previously denied that these fighters have any connection to the state. They have said any Russians fighting in Syria on the government side are private citizens who are there as volunteers.
As UNIAN reported earlier, multiple reports claim Yevgeny Prigozhin has been financing the notorious "Troll Factory" massively spreading fake news, disinformation and propaganda in favor of the Kremlin. He is also believed to be a sponsor of Wagner Private Military Company.
The businessman had denied any involvement with mercenaries.
Wagner troops have earlier been spotted in Ukraine, Syria, and other countries.