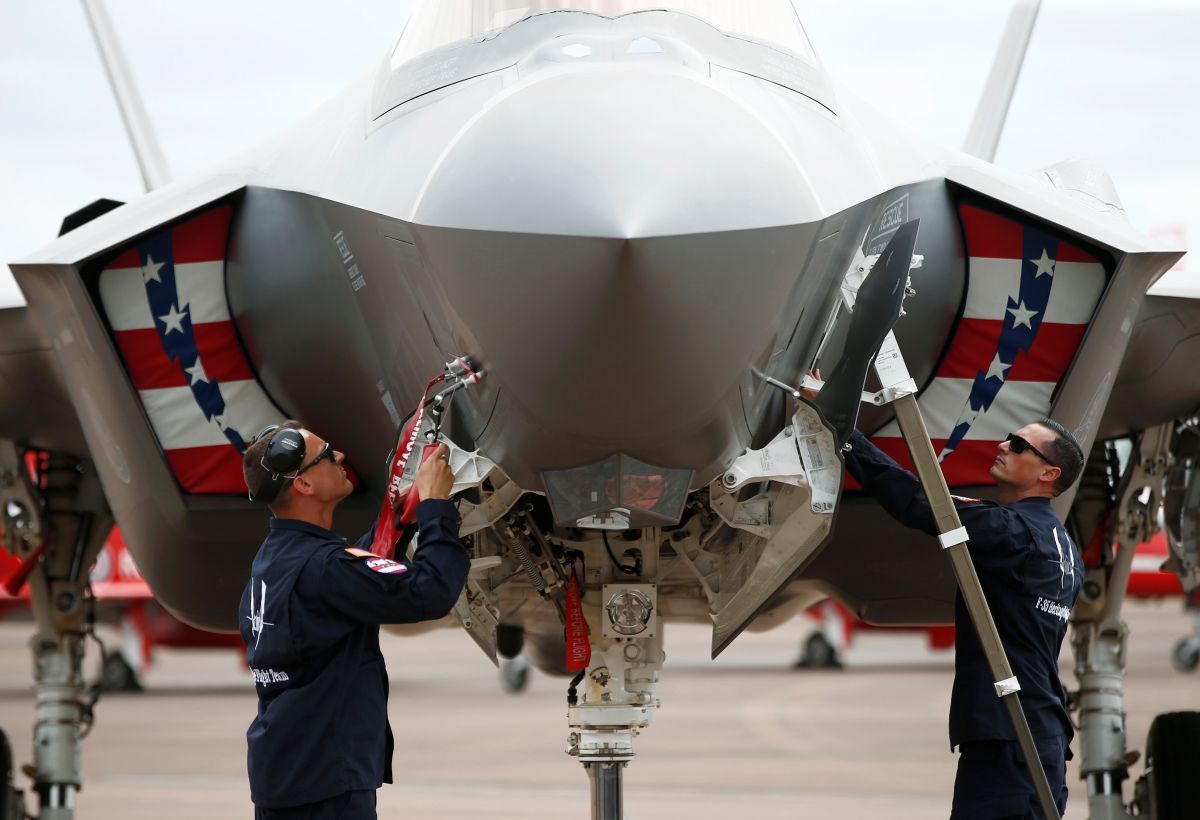 REUTERS
For seven decades, the NATO alliance has practiced collective defense and deterrence against evolving international threats, and over the years, its capabilities have changed accordingly.
NATO's most "powerful weapon," according to Jim Townsend with the Center for a New American Security, is the "unity of the alliance," but the individual allies also possess hard-hitting capabilities that could be called upon were it to face high-level aggression, Business Insider reports.
Heather Conley with the Center for Strategic and International Studies believes that Russia is likely to continue to press the alliance through low-end influence and cyberwarfare operations. Still, she explained to Business Insider, NATO needs to be seriously contemplating a high-end fight as Russia modernizes, pursuing hypersonic cruise missiles and other new systems.
Business Insider has provided some highlights of the many powerful weapons NATO could bring to bear against Russia.
F-35 Lightning II Joint Strike Fighter
"The air side of the NATO equation is led by the United States with the F-35 and other various aircraft," Townsend told BI.
The fifth-generation F-35 Joint Strike Fighter is an aircraft that rival powers have been unable to match its stealth and advanced suite of powerful sensors. While some NATO countries are looking at the F-35 as a leap in combat capability, others continue to rely on the F-16, an older supersonic fighter that can dogfight and also bomb ground targets. And then some countries, like Germany, are considering European alternatives.
Eurofighter Typhoons
The Eurofighter Typhoon is a capable mutli-role aircraft designed by a handful of NATO countries, namely the UK, Germany, Italy, and Spain, determined to field an elite air-superiority fighter. France, which walked away from the Eurofighter project, independently built a similar fighter known as the Dassault Rafale. Observers argue that the Typhoon is comparable to late-generation Russian Flanker variants, such as the Su-35.
Bombers
The U.S. provides conventional and nuclear deterrence capabilities through the regular rotation of bomber aircraft into the European area of operations.
American bombers have been routinely rotating into the area since Russia annexed Crimea in 2014, according to Military.com. That year, the Pentagon sent two B-2 Spirit bombers and three B-52s to Europe for training. The B-1B Lancers are also among the US bombers that regularly operate alongside NATO allies.
U.S. P-8A Poseidon aircraft
"There's also the maritime posture, particularly as Russia continues to rely on a submarine nuclear deterrent. We need a stronger presence. That's why we're seeing Norway, the U.S., UK do more with the P-8As," Conley, the CSIS expert, told BI.
Facing emerging threats in the undersea domain, where the margins to victory are said to be razor thin, NATO allies are increasingly boosting their ability to hunt and track enemy submarines from above and below the water. While there are a number of options available for this task, the US Navy P-8A Poseidon patrol plane, which was brought into replace the US military's older P-3 Orions, are among the best submarine hunters out there.
Frigates
"The NATO allies, in particular Italy, France, Spain, all have frigates that have very capable anti-submarine warfare systems," Bryan Clark with the Center for Strategic and Budgetary Assessments told BI.
"They have active low-frequency sonars that are variable-depth sonars. They can find submarines easily, and they are very good against diesel submarines." These forces could be used to target Russian submarines in the Eastern Mediterranean and into the Black Sea.
"Norway and Denmark also have really good frigates," he explained. "They could go out and do anti-submarine warfare" in the North Sea/Baltic Sea area, "and they are very good at that."
AH-64 Apache gunship
The attack helicopters can carry up to sixteen Hellfire missiles at a time, with each missile possessing the ability to cripple an enemy armor unit. The Hellfire is expected to eventually be replaced with the more capable Joint Air-to-Ground Missile.
German Leopard 2 tanks
The Leopard 2 main battle tank, which gained a reputation for being "indestructible," is a formidable weapon first built to blunt the spearhead of a Soviet armor thrust and one that would probably be on the front lines were the NATO alliance and Russia to come to blows. While this tank, a key component of NATO's armored forces, took an unexpected beating in the fight against the Islamic State in Syria, it is still considered one of the alliance's top tanks, on par with the U.S. M1 Abrams and the British Challenger 2.
Observers suspect that the Leopard 2, like its U.S. and British counterparts, would be easily able to destroy most Russian tanks, as these tanks are likely to get the jump on a Russian tank in a shootout.
U.S. Nimitz-class aircraft carriers
A last-minute addition to last year's Trident Juncture exercise — massive NATO war games designed to simulate a large-scale conflict with Russia — was the USS Harry S. Truman, a Nimitz-class aircraft carrier, and its accompanying strike group. The carrier brought 6,000 service members and a large carrier air wing of F/A-18 Super Hornets to Norway for the largest drill in years.
The U.S. sails carriers into the North Atlantic to demonstrate to Russia that the U.S. can send carriers into this area, from which it could carry out "operations into the Baltics without too much trouble."
PATRIOT surface-to-air missile system and U.S. Virginia-class submarines are also on the list. The latter could be "useful to do cruise missile attacks against some of the Russian air defense systems in the western military district that reach over the Baltic countries."