Russia sending 17th 'aid convoy' to Donbas
12:43, 04 March 2015
World
Another large convoy of trucks that Russia claims is carrying humanitarian assistance has arrived at the Russian border with Ukraine, the deputy head of the National Center for Crisis Management of the Russian Emergency Situations Ministry Oleg Voronov said on Wednesday, according to Russian news agency RIA Novosti.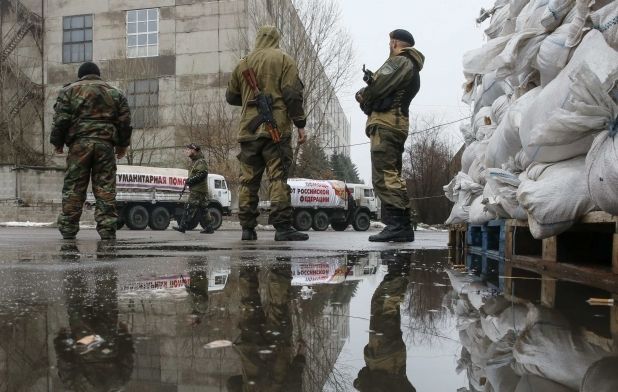 REUTERS
The more than 160 trucks are carrying over 1,800 tonnes of what the Kremlin claims is "humanitarian aid" for Donetsk and Luhansk regions. The Kremlin's claims cannot be verified, as Russia has refused to allow Ukrainian officials and officials of the International Committee of the Red Cross to fully inspect any of the shipments.
Kyiv claims the convoys of trucks are used to supply arms, ammunition and other goods to Russian-backed militants fighting against Ukrainian government forces in the east of the county.
According to Voronov, the column came from the Don rescue center.
"The convoy of trucks were divided into two parts en route: some trucks went to the Donetsk border crossing point, [while] the other part went to Matveev Kurgan border crossing point, where the customs clearance of vehicles was beginning in accordance with established procedure," he said.
"The humanitarian assistance will be distributed in equal parts between Luhansk and Donetsk regions," Voronov said.
This is already the 17th Russian convoy to enter Ukraine without permission from Kyiv since August last year. The convoys are always sent via parts of the border that are not under Ukrainian government control, and only visit the parts of Ukraine were militants have seized control from the local authorities.
If you see a spelling error on our site, select it and press Ctrl+Enter