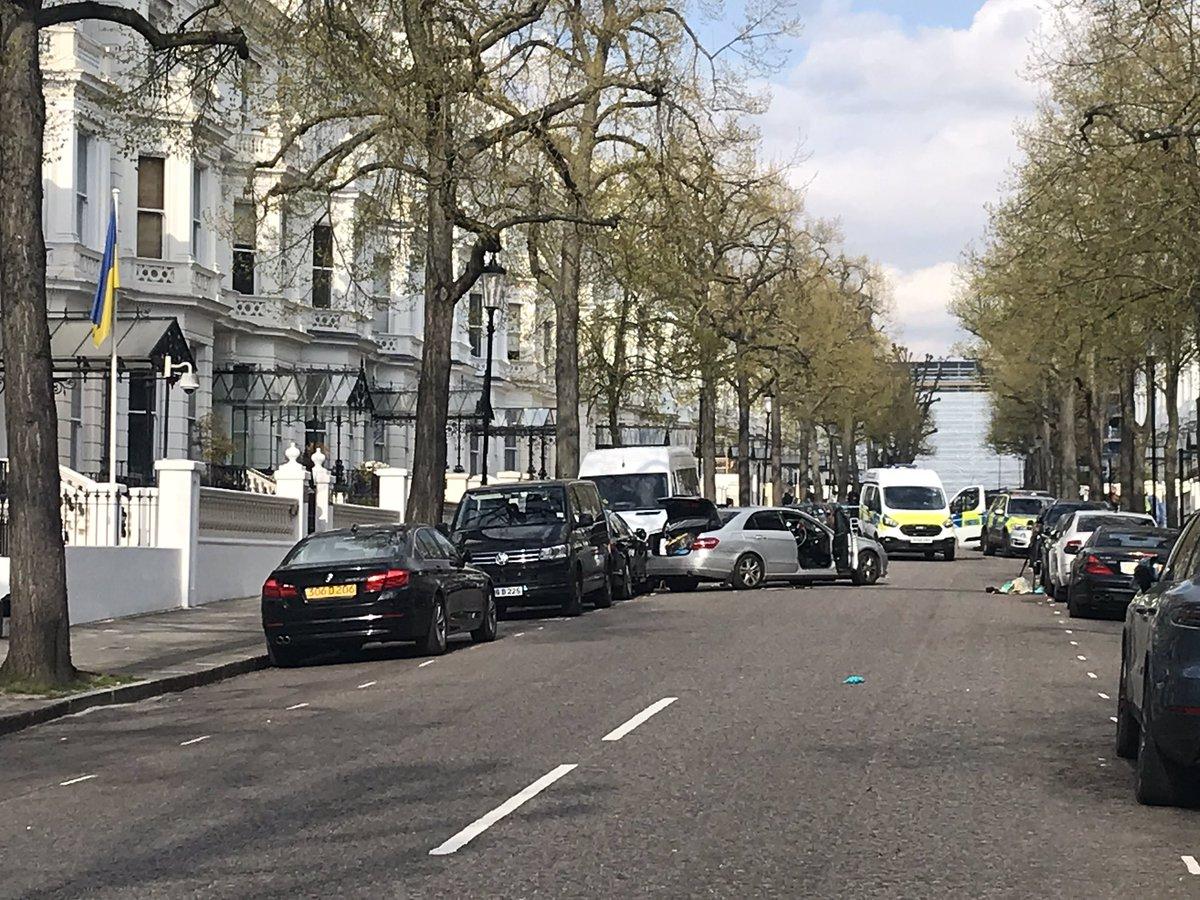 Twitter / Sam Blewett
A man has been arrested on suspicion of attempted murder after a car was driven at police officers outside the Ukrainian embassy in London.
Police fired shots at the scene in Holland Park in the west of the capital after the Ukrainian ambassador's car was "deliberately rammed" twice on Saturday, according to the Daily Mail.
Scotland Yard said a vehicle was driven at officers when they arrived at the scene and a man in his 40s was arrested on suspicion of the attempted murder of police officers and criminal damage.
Police firearms and Taser were discharged in the incident, and the man, who was not injured, was taken to hospital as a precaution and is now in custody at a central London police station.
The incident is not being treated as terrorist-related.
Witness Darcy Mercier described the "really strange" event to the BBC, saying the car was "blasting Ukrainian music in some kind of protest against the embassy" after arriving at about 7:00.
He said: "I was out on my terrace when he started ramming the car and then the police arrested him.
Read alsoJulian Assange arrested by British police at Ecuadorean embassy – media
"I asked him to turn down the music and he said that he was playing Ukrainian music for the Ukrainian Embassy and was a little bit belligerent."
Footage showed armed police surround the silver Mercedes before smashing the driver's window and using a Taser on the screaming suspect.
A statement from the Ukrainian embassy said: "The official vehicle of the Ambassador of Ukraine to the United Kingdom was deliberately rammed as it sat parked in front of the Embassy of Ukraine's building.
"The police were called immediately, and the suspect's vehicle was blocked up.
"Nevertheless, despite the police actions, the attacker hit the ambassador's car again.
"In response, the police were forced to open fire on the perpetrator's vehicle."
The embassy said no staff were injured.
Ukrainian diplomats praised the police response to the incident.
"We appreciate the swift and professional @metpoliceuk response in the incident outside the Embassy earlier today," the Ukrainian Embassy wrote on Twitter.