Obama decided not to supply lethal weapons to Ukraine 'after talks with Merkel'
13:03, 10 March 2015
World
U.S. President Barack Obama decided not to supply lethal weapons to the Ukrainian army after a meeting with German Chancellor Angela Merkel on February 9, Germany's Ambassador to the United States Peter Wittig said in an interview with the Associated Press on Tuesday, according to Russian television Channel Dozhd.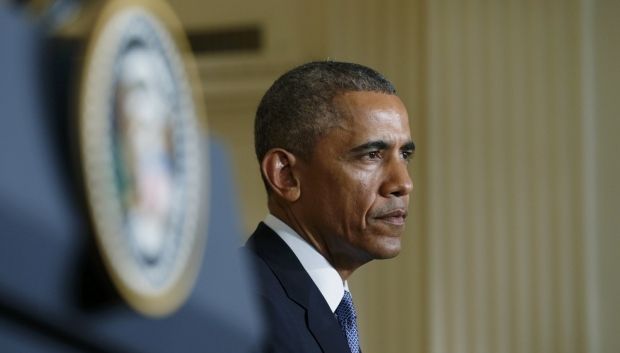 REUTERS
"Angela Merkel brought convincing arguments about the importance of continuing diplomatic and political efforts to resolve the armed conflict in the Donbas. Barack Obama agreed with these arguments," Wittig said.
"The leaders of the U.S. and Germany are confident that now is not the time to supply lethal weapons to Ukraine," Wittig said.
After the February meeting at the White House, Barack Obama told the press that he supported a diplomatic resolution of the situation in the Donbas, but he had not yet made a final decision on the supply of weapons to Ukraine.
However, the U.S. president did not rule out such a possibility in the future.
The reported meeting between Obama and Merkel came days before the Minsk peace talks on February 12, which were a diplomatic initiative by Germany and France.
The talks, which also brought together the leaders of Ukraine and Russia, resulted in agreement on the implementation of last September's Minsk agreement on ending the conflict in the Donbas.
The sides agreed that a ceasefire would start from 0001 on February 15, after which a withdrawal of heavy weapons from the front line would occur.
However, the Russian-backed militants broke the ceasefire almost immediately, and went on to attack and capture the town of Debaltseve, days after the ceasefire was supposed to have come into effect.
Both sides have since said that they have withdrawn their heavy weapons as per the Minsk implementation agreement, which the Organization for Security and Cooperation in Europe (OSCE) is charged with monitoring.
The OSCE has reported that it has been able to monitor the pullback of Ukrainian weapons, and inspect the sites to which the weapons were withdrawn by Kyiv, but that the militants are not permitting the organization to monitor all the sites to which they claim to have redeployed their weapons.
Meanwhile, the Ukrainian authorities have said they have observed the movement and use of militant heavy artillery within the "buffer zone" between the two sides, which, if confirmed, would be a clear breach of the Minsk accords.
If you see a spelling error on our site, select it and press Ctrl+Enter