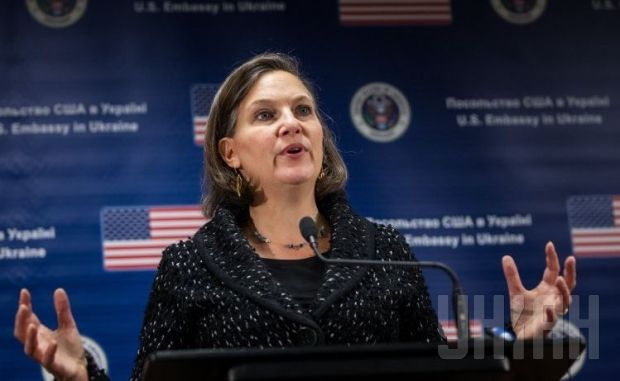 UNIAN
Nuland said Moscow continues to deny its military presence in the Donbas.
The hearing, entitled "U.S. policy in Ukraine: Russian opposition and stimulating reforms," was held in the Foreign Affairs Committee of the upper house of the U.S. Congress.
Evidence is mounting of heavy Russian involvement in eastern Ukraine since the beginning of the armed stage of the unrest there in April. Igor Girkin, the Russian former "defense minister" of the Donetsk People's Republic militant organization, claimed in an interview in November that he and his team of Russian special operations soldiers "pulled the trigger of war" in the Donbas by carrying out the occupation of Ukrainian security offices in Donetsk region.
Several videos exist of what may be Girkin's team actually carrying out the military-style seizures of police and security service headquarters, with armed men in unmarked uniforms storming buildings, which were then occupied by local militants.
Then in late August Ukraine's military advances against the militants in the east were brought to a sharp halt after what Kyiv and NATO say was a large incursion by regular Russian military units. Shortly after, Ukraine and the militants agreed on a ceasefire, although this was never respected by the militants, who advanced to take back ground they had lost earlier and even expanded the area they controlled.
Ukrainian soldiers also say that it was largely regular Russian troops who attacked and captured the key strategic town of Debaltseve in Donetsk region, again in breach of the latest February 15 ceasefire – a claim corroborated by interviews published in the Russian media with Russian soldiers who said they participated in the battle.
Although Russia denies sending its troops into Ukraine, the Kremlin made similar denials when it used its troops to take over the Ukrainian territory of Crimea last March. Russian President Vladimir Putin later admitted that Russian troops had been involved, and awarded some of them medals for taking part in the takeover operation. Putin has since also admitted that planning for the Russian takeover of Crimea started even before former Ukrainian President Viktor Yanukovych had left Ukraine. 
Meanwhile, representative of the U.S. Treasury Department Ramin Toloui said that in the last few months alone the international community had decided to increase support to Ukraine and to allocate an additional $10 billion to support its economy in light of ongoing Russian aggression.
"In the second half of this year, the United States will provide the Ukrainian government an additional loan of $1 billion," Toloui said.
"Moscow is not rushing to demand from Ukraine the return of the loan of $3 billion provided to Kyiv in the last weeks of the regime of former Ukrainian President Viktor Yanukovych, who fled to Russia," Toloui said.
"Negotiations on the format of the return of these funds are being conducted with the IMF," he said.