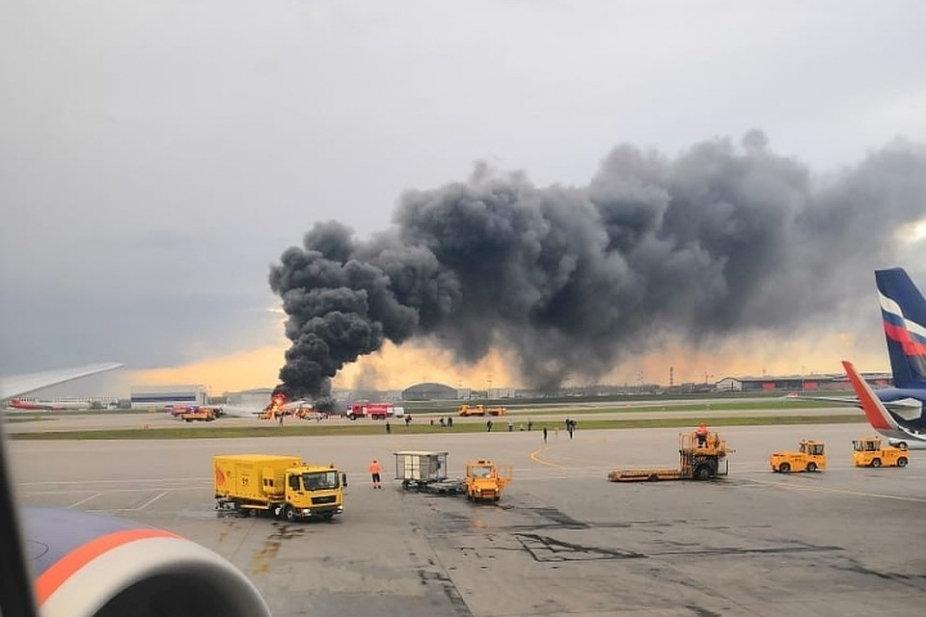 REUTERS
Forty-one people have been killed after a Russian passenger plane made a fiery emergency landing and burst into flames at Moscow's Sheremetyevo airport, authorities say.
The Sukhoi Superjet SSJ100 operated by national airline Aeroflot was carrying 73 passengers and five crew members when it touched down and sped along a runway on May 5, with huge flames and black smoke pouring from its fuselage, RFE/RL reported.
"According to the updated info which the investigation has as of now, 37 people survived," the Investigative Committee said in a statement.
At least five injured passengers were taken to hospital. Two of them were reportedly in serious condition.
One crew member and at least two children were said to be among the dead.
Read alsoPassenger jet makes hard landing in Moscow's Sheremetyevo airport, catches fire (Updated)
The aircraft took off from Sheremetyevo airport bound for the northern Russian city of Murmansk, but was forced to turn back due to unspecified "technical reasons," according to Aeroflot.
The company said that the plane's engines caught fire on the runway of the airport after making an emergency landing – not in midair as initially reported.
The pilot of the aircraft and passengers were quoted as saying that the jet was struck by lightning during a thunderstorm.
A criminal case has been opened into the crash, the Investigative Committee said.
Flight SU-1492 departed Sheremetyevo airport on the afternoon of May 5 for a 2.5-hour flight to Murmansk.
Flightradar24 tracking service showed that the aircraft made two circles around Moscow and landed after flying for about 45 minutes.
Interfax news agency reported that the plane failed in its first attempt to land because it was still traveling at high speed, and then its automated equipment failed on the second approach, forcing the pilot into a hard landing.
Videos on social media show passengers plunging down the plane's inflatable evacuation slides and running across the airport's tarmac and grass, some with their luggage in hand, to escape the burning aircraft.
Aeroflot said the crew "did everything to save the passengers," who it said were evacuated in 55 seconds, and that a commission has been established "to investigate the causes and circumstances of the incident."
It also published a list of 33 survivors who had been identified.
The plane's manufacturer, Sukhoi Civil Aircraft, said the aircraft had received maintenance last month. The pilot had some 1,400 hours of experience flying the plane, according to Aeroflot.
A number of flights have been diverted from Sheremetyevo to other airports following the crash.
Russian President Vladimir Putin had offered his condolences to the families of the victims, spokesman Dmitry Peskov said.
Three days of mourning have been declared in the Murmansk region.
This is the second fatal accident involving the SSJ100, which is widely used in Russia. In 2012, a demonstration flight in Indonesia struck a mountain, killing all 45 people on board.