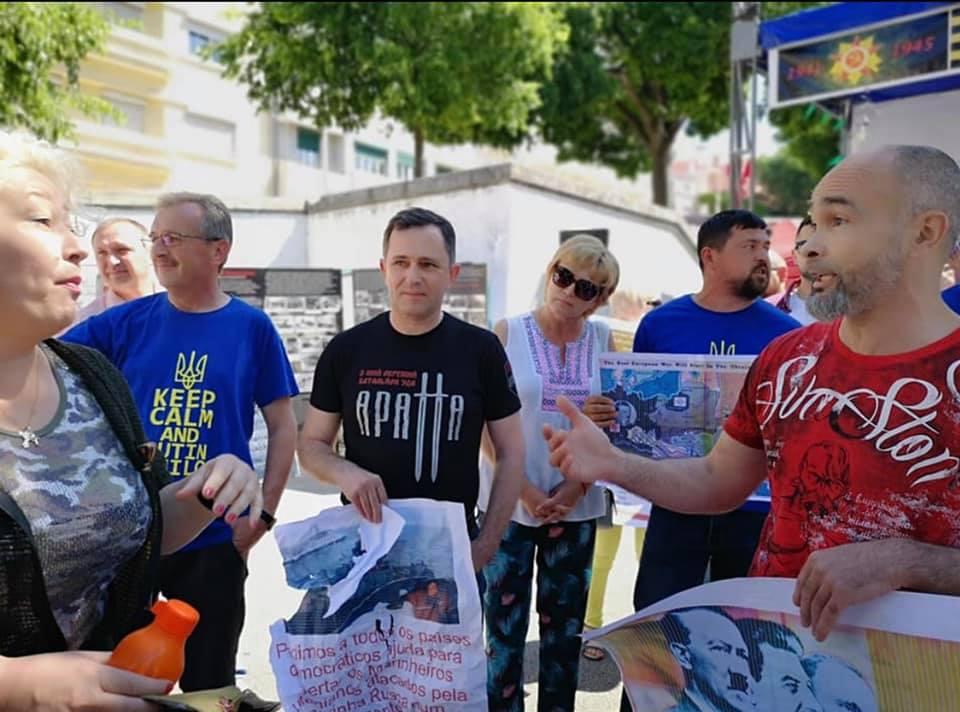 Ukrainians had anti-Stalinist posters and banners against Russian aggression / Photo from www.facebook.com/kozakxp
Participants in an event of Russia's "Immortal Regiment" propaganda campaign have attacked Ukrainian citizens in Lisbon, Portugal.
"Despite warnings by the Ukrainian Union in Portugal, letters sent by Ambassador of Ukraine to Portugal Inna Ohnivets to Lisbon Municipal Council, despite last year's meetings of Ukrainian World Congress (UWC) President Eugene Czolij with High Commissioner for Migration Pedro Calado and members of the Portuguese Parliament, the Portuguese Communist Party and related left-wing organizations have again held an event of the 'Immortal Regiment' propaganda campaign in Lisbon," Chairman of the Council of the Ukrainian Union in Portugal Pavlo Sadokha said on Facebook on May 5.
According to Sadokha, Ukrainians living in Portugal came out to the participants of the rally with anti-Stalinist posters, as well as banners against Russia's ongoing aggressive policy.
"Members of the Ukrainian community in Portugal, having learned from social networks about the planned action, also joined in, but they [brought] posters and banners that show [Soviet leader Joseph] Stalin's true role in unleashing World War II and numerous victims of Stalin's terror and the ongoing Moscow-Ukrainian war," he said.
Read alsoPoroshenko: Russia uses 'Immortal Regiment' as element of hybrid warfare
Yet, the Ukrainian participants encountered aggression on part of participants in the Russian propaganda rally, he said.
"Posters were torn out, one Ukrainian woman's phone was smashed, and after the rally, a Ukrainian activist's car was attacked: a headlamp in the car was broken [in the attack where] his one-year-old grandson was an eyewitness," he said.
The old man was beaten with a baseball bat several times, Sadokha said.
The Russian event in Lisbon has once again proved the true character of the "Immortal Regiment" – propaganda of aggression, ethnic hatred and Moscow chauvinism, he added.
A man wearing a black T-shirt with the so-called "flag" of the terrorist organization "Donetsk People's Republic" was spotted by eyewitnesses during the event.
UNIAN memo. Bessmertny Polk (literally Immortal Regiment) is a Russian-registered propagandist non-governmental organization. It was founded by three Russian journalists in the town of Tomsk in 2011. Its original goal was to collect information about members of the armed forces and organize events to honor war veterans.
After Russian aggression against Ukraine was unleashed, the organization became a propagandist tool and began to organize its events with the focus on the Great Patriotic War (1941-1945) outside Russia. It now works in over 60 countries and regions. Bessmertny Polk members participate in annual marches on Victory Day on May 9, they carry photos of their family members who were war veterans, resistance fighters, prisoners of concentration camps, survivors of sieges, and persons born in time of war. The organization also keeps a memorial log of their members' family stories on its website.