Media: Putin not seen in public since March 6
21:59, 11 March 2015
World
Russian President Vladimir Putin last appeared before reporters on March 5 when he was meeting with Italian Prime Minister Matteo Renzi.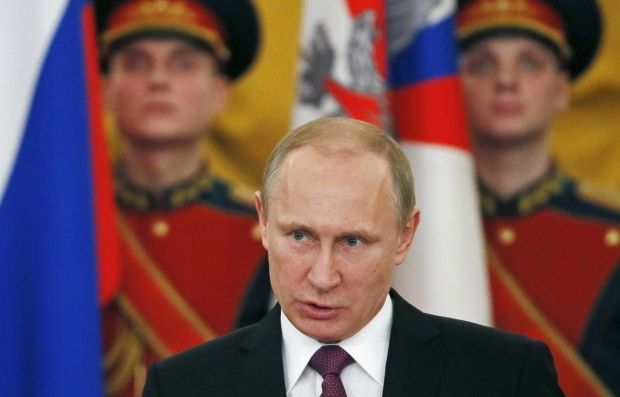 REUTERS
After that meeting, Putin has had only one official event where he was seen not only by government officials – an official report dated March 8 on the Kremlin's website says that the Russian president met with women whose children have made outstanding achievements in various spheres, to congratulate them on the occasion of International Women's Day, Russian leading multimedia holding RBC reported.
In fact, this event was recorded in advance by Putin's personal cameraman way back on March 5, a participant in the meeting told RBC.
From March 6 and on, Putin has held only non-public meetings attended by government officials solely, and journalists have not been invited. The Kremlin's website says that on that day, the Russian president first held a meeting of the Security Council, and then communicated with the ministers of finance and defense Anton Siluanov and Sergei Shoigu, respectively. In the evening, he met with Vnesheconombank Chairman Vladimir Dmitriev.
On March 10, according to the Kremlin, Putin met with Governor of the Yamal-Nenets Autonomous Okrug Dmitry Kobylkin. The meeting was also held behind closed doors. However, RBC's two sources close to the Kremlin claim that Kobylkin allegedly did not go to the Kremlin on that day, while the bank chairman's press service has denied that information.
On March 11 Putin's press service released information about the president's meeting with Governor of Karelia Alexander Khudilainen. However, online newspaper vesti.karelia [News of Karelia] reported way back on March 5 that "Vladimir Putin had met with Alexander Khudilainen."
"Yet, the Kremlin's press service for some reason still keeps silent and, as rumor has it, plans to inform about that meeting only next week. As we were told by a source in Karelia's government, it is an occasional practice," RBC wrote.
Indeed, the report about the meeting between Putin and Khudilainen appeared on the Kremlin's website after the Reuters news agency, citing a source in the government of Kazakhstan, had reported that a meeting between the presidents of Russia, Belarus and Kazakhstan scheduled for March 12-13 in Astana, Kazakhstan, would not take place. "The [Russian president's] visit has been cancelled. It looks like he (Putin) has fallen ill," Reuters reported, citing its source.
Later, Putin's spokesman Dmitry Peskov denied information about the illness of the Russian president.
If you see a spelling error on our site, select it and press Ctrl+Enter