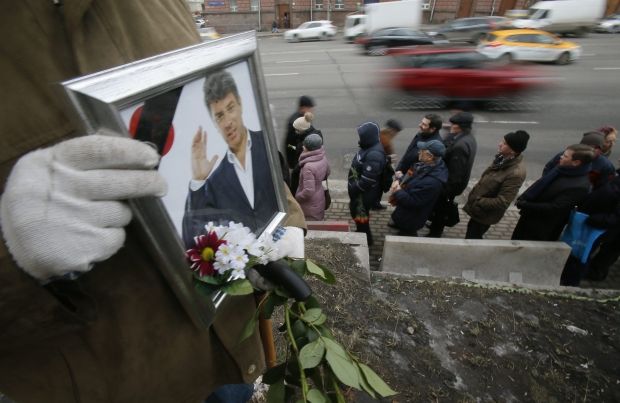 REUTERS
PACE's Legal Affairs and Human Rights Committee has called on the Russian authorities to "re-open and continue" their investigation into the murder of opposition leader Boris Nemtsov, listing a number of "serious concerns" over its independence and effectiveness.
The committee, approving a report by Emanuelis Zingeris (Lithuania, EPP/CD) at a meeting in Paris, concluded that "not all relevant aspects of the case have been examined and the full truth has not been revealed," PACE's website said.
It cited, in particular: a failure to identify and locate possible video evidence, including from Russia's Federal Protection Service which is responsible for Kremlin security; a failure to question possible witnesses, including those seen on the bridge at the time of the shooting and the drivers of known vehicles; "irregularities, inconsistencies and implausibilities" in the forensic evidence relating to the bullets and shell casings that were recovered and the injuries suffered by Nemtsov.
PACE also notes "significant inconsistencies and contradictions" in the evidence given by crucial witnesses; and a series of irregularities in the conduct of the trial, including the dismissal of jurors on spurious or weak grounds.
In a draft resolution, the committee also pointed out that two of the men involved in the murder, gunman Zaur Dadayev and Chechen army driver Ruslan Mukhudinov who supposedly paid 15 million roubles for the killing, were "closely connected to the highest levels of military and political authority in Chechnya."
Read alsoRFE/RL: U.S. sanctions Chechen officials allegedly linked to 'gay purge,' killing of Nemtsov
It was extremely unlikely these men "could or would have staged a complex operation to murder a prominent political personality in public in central Moscow without at least the fore-knowledge and approval of, if not direct instructions from their hierarchical superiors," the committee said.
The motive attributed to Mukhudinov for commissioning the crime was "unsupported by any evidence" and there was no explanation of how he had obtained the money to pay the killers.
The committee named General Alexander Bastrykin, head of the investigative committee looking into the murder, and Deputy Prosecutor General Victor Grin as having "particular responsibility for the failure of the investigation and the lack of credibility of the prosecution case."
It invited states that have adopted "Magnitsky laws" to consider including in the list of sanctioned persons "those responsible for the failure to take the necessary investigative measures required to identify the instigators and organisers of the murder of Boris Nemtsov."
The report is due to be debated by the plenary Assembly Strasbourg on June 27.