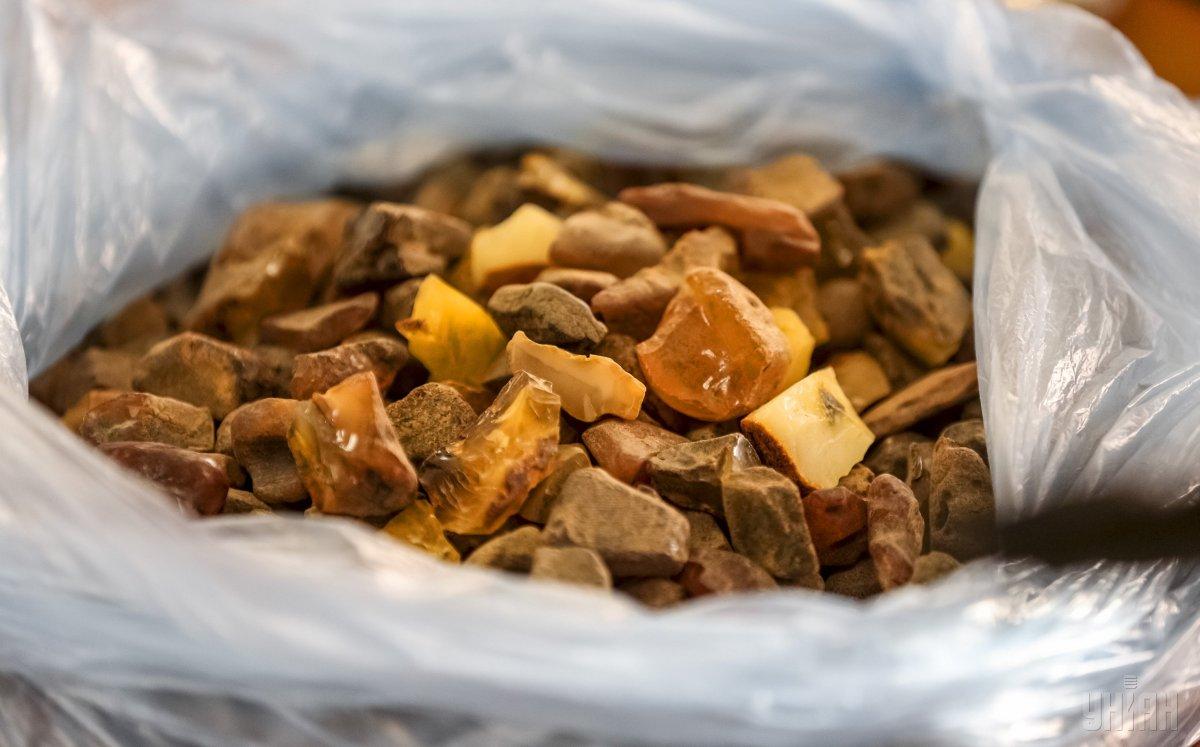 Photo from UNIAN
A massive China-led boom in the value of amber over the past decade has begun to fade due to changing consumer tastes and a glut of the semi-precious gem.
Consumers in developed countries are ditching antique and collectible pieces in favour of so-called fast fashion jewellery advertised directly to them via social media. At the same time, buyers in China – by far amber's biggest market – are demanding only the finest examples of the gem, forcing amber dealers to cut prices, according to the Financial Times (FT).
Read alsoSBU seizes 6.5 tonnes of amber from illegal "factory" in Odesa region (Photo)
Amber – a fossilised tree resin that comes from ancient pine forests – varies vastly in price. Several factors determine its value, such as size, colour, age, and whether it has any insects or other preserved "inclusions" trapped inside.
The raw material has at times been sold for more than gold. About eight years ago, demand from a rapidly growing China, helped by an appreciating renminbi, drove a modern-day gold rush. Dealers say prices increased by as much as 1,000 per cent between 2011 and 2016.
"Over the past 10 years the market absolutely boomed. We saw it spike quite considerably about five years ago because of interest from the Far East… with prices far exceeding anything we'd seen in the preceding years," says Kristian Spofforth, head of jewellery sales at Sotheby's in London. "That's now eased off."
Tadeusz Pilecki, a Pole who runs the Amber Centre in London – which is now just an online store – says there was a spike in demand in western economies in the 1990s, after the release of the 1993 movie Jurassic Park.
In the film, the DNA from a mosquito found in a piece of amber is used to clone dinosaurs. "It was then that people properly realised that this stuff exists… They realised that it's really old, natural and full of history. A normal gemstone – like a diamond – is just a shiny stone," he says.
Mr. Pilecki opened his first amber shop in 1994 in London's West End, and soon after opened concessions in high-end department stores Harrods, Selfridges and Fenwick's, as well as other standalone shops.
But one by one, the stores and concessions closed as oversupply undermined the sense that amber was a rare and treasured commodity, Mr. Pilecki says, and pushed down prices. Mr. Pilecki shut his flagship St Christopher's Place shop in 2015, and now runs an online store from a small office in Brentford, in the west of London.
"A market that was meant to be exclusive became a mass market. It's like anything else: you can kill it with oversupply very quickly," he says. "If you're an elegant lady you want to wear an expensive piece. You don't want to compete with your cleaner."
Read alsoPolice seize over one tonne of amber in Volyn region
In Russia's Kaliningrad region – a remote exclave sandwiched between Lithuania and Poland on the Baltic Coast – the Kaliningrad Amber Combine, a subsidiary of the Russian state-owned conglomerate Rostec and the biggest amber mine in the world, boasted that it had mined a record 500 tonnes of amber last year.
Le'amber Consortium, a Lithuania-based group of producers and sellers of the gem, blames the Combine for the oversupply. It estimates that at the end of 2018, there were 1,300 tonnes of unused amber resources globally.
The state-run mine is not the only producer of amber in Kaliningrad – a huge black market has sprung up in the region, driven by low wages and a lack of job opportunities, as well as growing awareness of the slowing, but still significant, demand from China.
Mr. Pilecki at the Amber Centre in London believes the greatest damage to the market stems from Ukraine, where a black market that is even more active than its Russian counterpart has emerged in recent years amid political chaos.
Dealers say huge amounts of amber is hoarded in Ukraine, though the amber is newer and of a lesser quality than in Kaliningrad, where "blue clay" preserves the amber and keeps it in bigger, more valuable pieces.