Polish President: EU Council to 'pave way' for new sanctions against Russia
12:52, 19 March 2015
World
The EU Council will uphold the EU sanctions against the Russian Federation imposed because of its aggression against Ukraine, Polish President Bronisław Komorowski said on Polish Radio on Thursday, according to an UNIAN correspondent from Warsaw.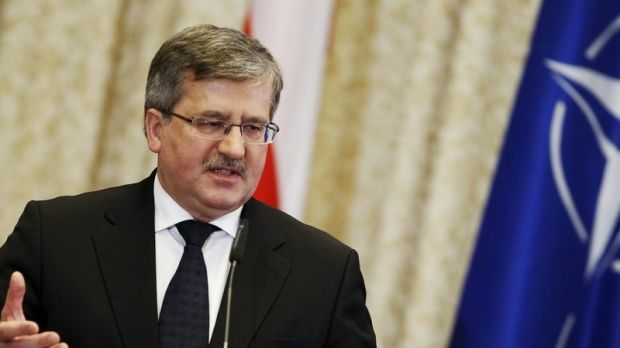 REUTERS
"I think there are high chances of keeping the sanctions," he said, commenting on the possible decisions of the EU Council meeting on March 19-20.
"There will be no decision to impose new sanctions against Russia at this meeting. The EU Council will rather 'pave the way' for them," Komorowski said.
According to Polish President, the issue of sanctions will depend on the development of Ukrainian-Russian relations.
"If Russia rejects the [kind of] triumphalism it demonstrated yesterday during the 'Festival of Joy' in honor of its annexation of the Crimea and other parts of Ukraine, and if it strives for peace, the EU Council will probably take other decisions, in a different atmosphere. But today, I think, a decision to keep the policy of sanctions at this level is very likely," Komorowski said.
As UNIAN reported earlier, on March 19-20 the EU Council will hold a meeting, during which the leaders of the member states will discuss the situation in Ukraine and the sanctions already imposed against Russia.
According to unofficial information, there is no unity among the 28 EU member states on the issue of the continuation of economic sanctions against Russia, which expire this summer.
Ukraine is seeking strengthened sanctions against Russia from its Western partners in reaction to Moscow's failure to observe the Minsk agreements reached in February on the resolution of the situation in the Donbas.
According to a growing body of evidence, Russia is continuing to supply weapons to the DPR and LPR militant organizations and still sending mercenaries and regular troops to the Donbas, in breach of commitments it gave in signing the Minsk implementation agreement on February 12.
The European Union, the United States, Canada, Japan, Australia and several other countries imposed sanctions against Russia because of its annexation of the Ukrainian territory of Crimea and its destabilization of eastern Ukraine.
If you see a spelling error on our site, select it and press Ctrl+Enter