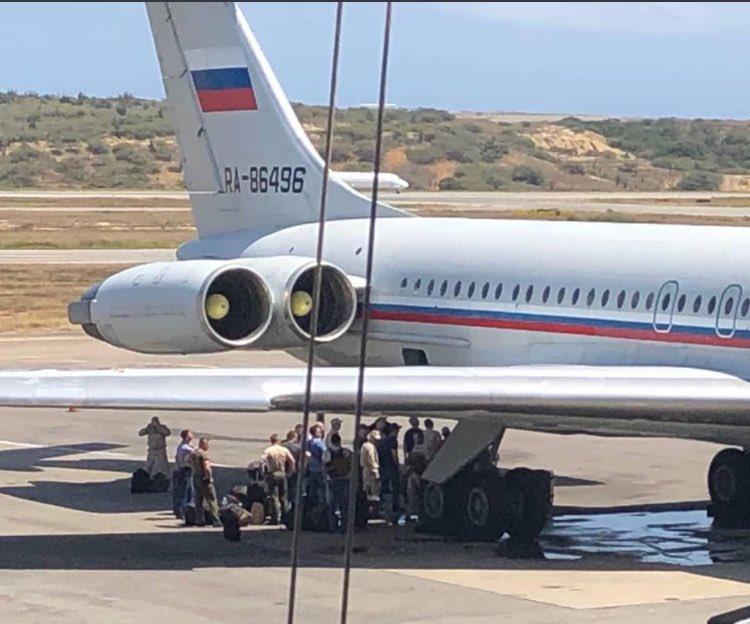 twitter.com/guidoolimpio
Russia's officials said the country's military personnel remain in Venezuela, where they are backing leader Nicolas Maduro, even after President Donald Trump assured his Twitter followers that the Russian troops had been withdrawn from the country.
On Twitter Monday, President Trump said Russia had informed him that "they have removed most of their people from Venezuela," Newsweek wrote.
Kremlin spokesman Dmitriy Peskov told reporters on Tuesday that Russian officials had not been in touch with Trump about the presence of Russian troops in the South American country, and the Russian operatives remain in Venezuela where they are continuing their cooperation with Maduro and his backers.
"We don't know what 'removed most of their people' means," Peskov told reporters during a press briefing. "In fact, there are specialists there who service the hardware shipped to Venezuela earlier. This process is going in an orderly manner." Peskov hinted that Trump may have been referring to media reports that claimed that Russia had withdrawn several key defense advisers from Venezuela.
Read alsoBloomberg: Venezuela defaults on gold swap with Deutsche Bank
Russia uses its defense support as an arm of its foreign policy, and has ramped up its military cooperation in African countries in the wake of Western sanctions. The country also increased its military support to Venezuela as the U.S. began advocating for regime change there.
A report in The Wall Street Journal Monday alleged that contractors from the Russian state-owned company Rostec have exited Venezuela due to the ongoing economic crisis and the Maduro government's inability to pay them. The defense contractors, however, denied the report in a statement.
"The Wall Street Journal overestimated the numbers of Rostec staff in Venezuela by dozens [of] times. The composition of our presence there remains unchanged for many years," Rostec said in a statement on Tuesday.