Tusk, Merkel, Hollande agree to prolong sanctions against Russia
19:42, 19 March 2015
World
European Council President Donald Tusk, German Chancellor Angela Merkel and French President Francois Hollande have decided to prolong the sanctions against Russia over Ukraine for at least until the end of 2015.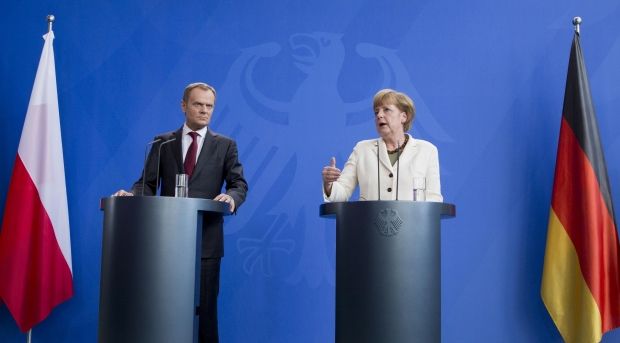 REUTERS
However, a formal decision on the prolongation of the sanctions, which are expiring in July, won't be taken before an EU summit slated for June, Russian Federal Information and Analytical Agency Rosbalt reported with reference to Reuters.
Earlier Merkel suggested linking European Union sanctions on Russia to full implementation of a Ukraine ceasefire under the Minsk agreements. According to her, it would be wrong to decide on rollover of the sanctions after the implementation of only first clauses of the peace accords.
The Ukraine crisis and relations with Russia will be also the focus of a two-day summit of the EU leaders, which is to begin in Brussels on Friday.
As UNIAN reported earlier, according to unofficial reports, there is no unity among the 28 EU member states on the prolongation of economic sanctions against Russia, which are expiring in summer.
Ukraine on the contrary is seeking tougher sanctions on Russia because it does not fulfill the Minsk agreements concluded in February 2015 to resolve the situation in Donbas.
UNIAN's reference information. In March 2014 Russia annexed the Ukrainian-controlled Autonomous Republic of Crimea and started destabilizing the situation in eastern Ukraine. Two self-proclaimed republics – the Donetsk People's Republic and the Luhansk People's Republic – were created with Russia's direct involvement and support of the Russian regular army in Donbas. Russia regularly sends mercenaries and regular troops to Donbas and supports them with heavy weapons and arms.
To stop the military aggression, the United States, the European Union, Canada, Japan, Australia and several other countries have imposed sanctions against Russia.
If you see a spelling error on our site, select it and press Ctrl+Enter